Published on: March 14, 2018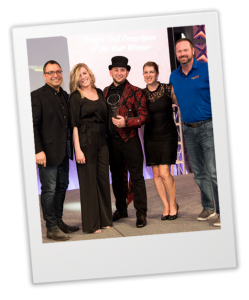 No matter what career you're in, everyone loves being recognized for the hard work and dedication they put into it. Such is the case for three Franchise Owners who were recently recognized as Franchisees of the Year at Tropical Smoothie Cafe's biennial convention.
Jason McCulley is a Franchise Owner with one open location in Rapid City, South Dakota, and another under construction. He was recognized as Single-Unit Franchisee of the Year for his impressive first year sales, his in-store contributions to our charity partner, Camp Sunshine, and his leadership skills in driving new innovations.
Before joining Tropical Smoothie Cafe, he worked in theater and production management for cruise lines and traveled all over the world. But it was a fateful night in Vegas when he bought a smoothie and happened to notice a "FRANCHISES AVAILABLE" message on the side of his cup. This got him thinking about bringing the concept to his home town, where he said "there were very few healthier food options."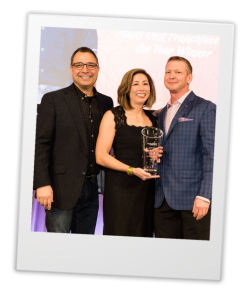 For Multi-Unit Franchisees of the Year Ray and Joy Howell, their aha! moment came at a trade show in Orlando, Florida. After looking at many different franchises they could own with their son, they said Tropical Smoothie Cafe stood out as a healthier, new brand with a lot of enthusiasm behind it.
Their passion for the brand and their ability to scale up quickly were just some of the reasons they were recognized at the convention. They currently have 14 locations, with five more on the way.
Joy's background is in food science and culinary arts. Ray was a former franchisee with a national automotive franchise. Together, their skills serve them well as they build their empire. They plan to keep growing with a goal of opening at least 50 cafes.
"I think loving what you do in any business is important, and loving this business has come really easy for me," said Ray.
Congratulations to all our winners! Thank you for all you do.