Published on: November 28, 2017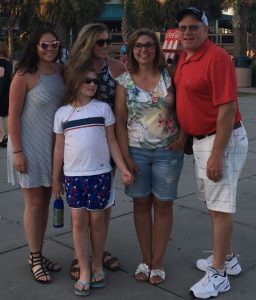 Bobbilyn Lynn acknowledges that her name is quite unique, but her love for Tropical Smoothie Cafe is common among our many fans. She first learned about the brand when traveling with her daughters to their eastern regional AAU sporting events. Wanting to keep her athletic family healthy, she looked for a place serving quick healthier food while they were on the road. Once they discovered Tropical Smoothie Cafe, the family's quest for a Tropical Smoothie Cafe location sometimes had them driving an hour out of their way to find one, but it was always worth it!
"We traveled to nine different states and went to the Tropical Smoothie in each of them. It was always fun and inviting, and the food was top-notch," said Bobbilyn.
Coming from a family of entrepreneurs, Bobbilyn had dreamed of leaving her corporate career to find a business she could feel passionate about. She started researching franchises online, using her specific criteria, and it was meant to be, as Tropical Smoothie Cafe came up in all of her searches.
"Of all the franchises I contacted, Tropical Smoothie Cafe was the only one that was responsive to me," said Bobbilyn. As she got farther along in the process, she spoke to more than fifty Franchise Owners about their experiences with the brand.
"What I heard from them was very consistent. They were enthusiastic about the brand and happy about owning a Tropical Smoothie Cafe. They said that the financial rewards would be there for me."
Now as she prepares to open her first Cafe in Pittsburgh, PA, she hopes to bring better-for-you food and smoothies to the members of her community.
"My location is close to the airport, shopping, colleges, hospitals and a number of corporate headquarters. It's perfect," said Bobbilynn.
To learn more about how you can realize your dreams of owning a Tropical Smoothie Cafe, complete the form below.