Published on: August 17, 2021
STEVEN JOHN / AUG. 5, 2021 / Mashed
If you don't have a Tropical Smoothie Cafe near your home yet, just wait a bit. The chain plans on opening an astonishing 200 locations this year alone, which will mean it's opening its 1000th restaurant. The company's goal is to open 1,500 cafes or more by the year 2024.
What is behind the company's rapid growth and impressive success (which, according to a company spokesperson, saw year-to-date same-store-sales increase by 38% in recent quarters)? We figured a good person to ask might be the CEO of Tropical Smoothie Cafe, Charles Watson.
Watson has been with Tropical Smoothie Cafe for many years now, so he has seen the growth up close. "I've been with Tropical Smoothie since 2010 and was [first] our vice president of franchise development," he told Mashed. "Then I was our chief development officer and I've been our CEO for about three years now. And it's been a heck of a ride, lots of growth, and I just really enjoying being able to scale this brand and bring healthier food and smoothies to the United States."
And by the way, that's one way Tropical Smoothie Cafe has grown so big so fast — the food. Because sure, the smoothies sell well and all, but did you know about the Chipotle Chicken Club flatbread sandwich? Or the Hummus Veggie Wrap? Turns out, there's a lot to know about Tropical Smoothie Cafe.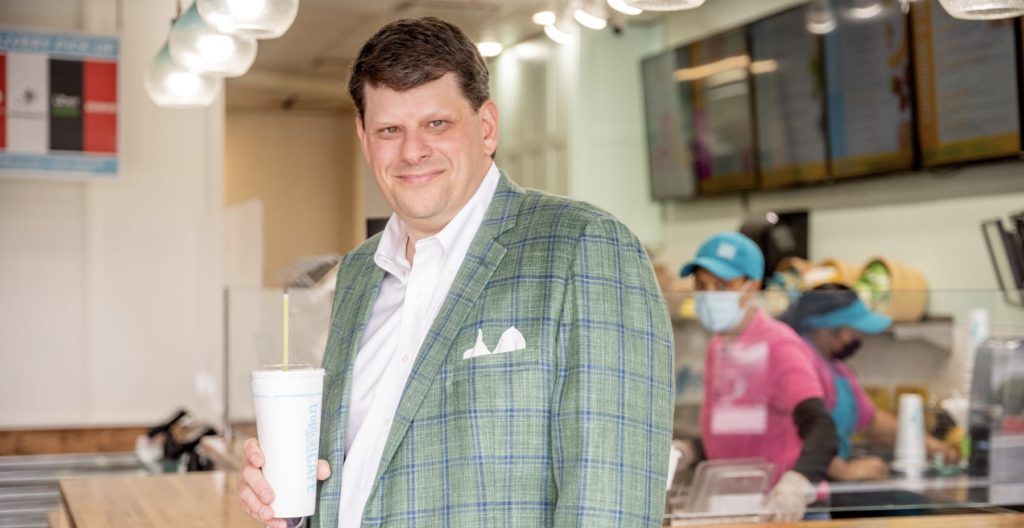 Charles Watson on the rapid growth of Tropical Smoothie Cafe
To what factors do you attribute the growth of the chain in recent years, and to its staying power?
Gosh, I would say the first things that come to mind for me are menu innovation and products. At the end of the day, we are a restaurant company and how great our food and smoothies are determines [success]. If you don't have a good product, it doesn't matter. And then number two, I would say a franchisee base that is second to none. We have very dedicated franchisees that just go out there and drive the business every day. And they're in their communities.
We really call Tropical Smoothie Cafe a street corner business. So our franchisees, if they're staying on top of their Tropical Smoothie Cafe, they've got to own that three to five mile radius around there. And they've been able to do that, which is increased our average unit volume many, many times over the years. And it has also driven franchise development and growth, so more units coming out. So I think a great franchisee base, and products and innovation that people want.
Did you foresee the level of growth the chain has experienced of late? Was it a pleasant surprise, expected, or was it a bit of both?
You know, this is terrible, but I've never gone through a pandemic before obviously, and I would have to say I'm pretty pleased — I think we did a very nice job during 2020, we opened 99 new restaurants. So just one shy of 100. Nobody knew what was going to happen. And we actually drove our comparative sales versus 2019 by 7.5%. So we managed to get through that.
We're now seeing a big acceleration in the business in 2021, much of that is attributable to our franchisees, really working hard to stand up digital channels. And the digital guest experience is another way for our customers to use us. And so I think we're right on pace. We're right, exactly where… It was a little bit of a step back in 2020, but in 2021, our year-to-date comparative sales are [up] almost 30%. That'll come down over time, but we're going to open 130 cafes on top of that. So we're a brand that's going to be close to pushing a 3:1 investment ratio. And so I think that's only going to fuel our continued growth going forward.
Charles Watson on Tropical Smoothie Cafe's current reach and expansion plans
What are the brand's plans for expansion and are you eyeing an international presence?
We're in 44 states, and Tropical Smoothie Cafe does not currently have an international presence. We're 100% focused on domestic right now. I would say I'm absolutely not opposed to being in all 50 states. For me, it's about really making sure that those DMAs [distinct market areas] or those different cities are all well represented and well connected so that our brand can compete in those different cities. The reality is the Left Coast, the West coast, Oregon, California, and Washington. I love those states, [but] those are not really key states for us at this point, our big bastions out west are Las Vegas and Phoenix. And so we're going to really get to focus there. So we'll get to 50, but I'm not focused on about five or six of them right now.
The way [Tropical Smoothie Cafe works in markets], we work the suburbs and the outskirts, and move our way into cities. So in cities where you see a lot of brand-awareness and a lot of units, we will have moved into the core center-city demographics, but we typically work outside in. So we don't have any specific development goals associated, i.e. we don't want to go to Manhattan and open 30 locations. Now we're really taking the lead from our franchisees and building out DMAs organically from outside them.
The best selling smoothies from Tropical Smoothie Cafe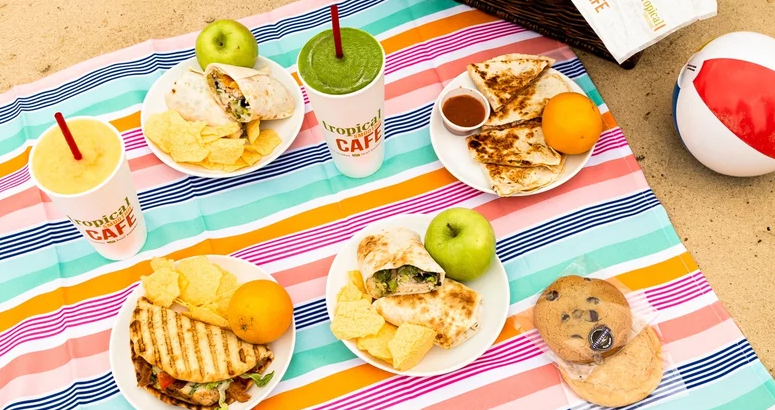 What is the all-time best-selling smoothie the chain offers?
Oh gosh. For many, many years, it's been the Bahama Mama. That's a smoothie that has pineapple, strawberries, and white chocolate and coconut. So it's got a little bit of indulgence to it. So that's always up there. The best smoothie in terms of sales actually going on right now is our Mango Berry Cosmo. The number one seller from a limited time offer perspective has always been our summertime Watermelon Mojito, it's incredibly popular, 20 to 25 sales per cafe per day, with that Watermelon Mojito, everyone looks forward to it. But the Mango Berry Cosmo has overtaken it. So again, I mentioned earlier menu innovation. That's why food and smoothie innovation is so important, it's to keep things fresh and to make sure that our guests are getting exciting things to be able to see and try. And if you do that well, then your top-sellers, sometimes you beat them. So we've been able to do that.
Are there misconceptions about smoothies you want cleared up?
Well, I think the one thing is that smoothies are anytime, they're not just a breakfast day part. They're not just a snack day part, etc. I think they can be used throughout the day and utilized in guests' diets. And at Tropical Smoothie Cafe, we really focus on the fresh ingredients. So I think there's a misconception with some brands that, for example a Slurpee, it's not at all a Slurpee, it's absolutely whole real fruit, ice, water, very basic items.
And the other misconception, whether you think it's uber healthy or not so healthy, is that you, the consumer, the guest have all the choice in the world. We can make you any smoothie that you like with our whole ingredients and you can mix and match as you see fit. Yes, we have some great products on our menu that we've crafted, but you can go off script. And I don't think enough people know that you can go off script to substitute or to take out, etc. So that would be my thoughts.
What sets your smoothies apart from smoothies from competitors?
I think all natural, whole fruit, and the ability to substitute while also having some really great baseline recipes that we have out there. But it's the freshness. So it's the made-to-order. It's the high quality ingredients. You're paying for a premium product.
The surprisingly large menu at Tropical Smoothie Cafe
What is something you wish more people knew about the chain and its products?
It is the food. And it's the high quality food. It's not just: "We have snacks!" We have a full-on robust kitchen that's preparing fresh products. We have quesadillas, we have flatbread sandwiches, we have sandwiches, we have salads. So we have a broad array of food products that are both healthier and they're more boldly flavored. Our consumers really like our food. If it's not run-of-the-mill bland food, we want to bring a little bit of a culinary experience to quick casual, and still provide convenience, and value, and all those kinds of things. Right now we have a BLT quesadilla. We have a jerk chicken quesadilla, we don't come out and just do a ham or turkey sandwich. We add some spice to it. So more knowledge about our great food offerings is something that I would change a little bit. We're working on it.
Outside of smoothies, what's the top-selling non-smoothie product?
Chipotle chicken flatbread. So another boldly flavored product, that's been a number one seller for gosh, probably five, six years at this point.
A franchise success story 25 years in the making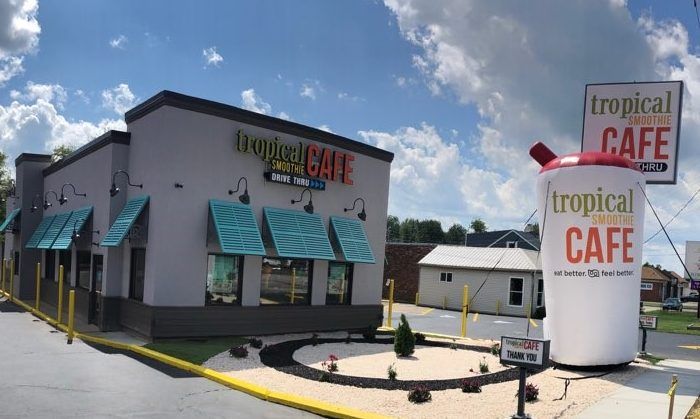 Next year marks 25 years since the brand's founding. Any plans for celebrations and promotions around the quarter-century mark?
Every day is a day to celebrate at Tropical Smoothie Cafe, with all the success we're having. But I would tell you that what has ultimately driven this brand is our franchisees and it is our culture, right? And so we are rolling out this fall, what we're calling it, our Inspire Better, right? We want to capture both the head and the heart of our consumers. So there's a lot of involvement. Again, the franchising, especially in Tropical Smoothie, it is a local business. Yes, it has a brand name on it, but it is Bill and Sally Smith on the corner and they're entrepreneurs. And so the way that they impact the communities where they operate is a really big part. So that's what we call Inspiring Better. It's doing more than just being in business to sell food and smoothies.
So it's getting involved with charity partners. It's getting involved in the local community. We did a fantastic job of that during the pandemic, we gave away a quarter million smoothies to healthcare workers and first-responders. And that really got us down this road of: "What is our purpose? How are we purpose-driven?" And we're rolling that out under our tagline of Inspire Better. That ultimately is our vision for Tropical Smoothie Cafe. Because we want to help with your meal and your food, etc. But we want to also have a higher calling of what we're doing to be great individuals and great corporate citizens.
Tell us a bit about Camp Sunshine, about the partnership there, what you want people to know about it, and ways people can help support it.
Sure. Absolutely. Camp Sunshine is a camp for kids and their families that have life-threatening illnesses. We've been in partnership with them for over 10 years now. We've raised almost $7.5 million for them. And what we were able to do is to take a smaller organization that was scrappy, just like Tropical Smoothie Cafe, and really build their endowment and really serve a lot of families. And it has been a fantastic partnership because we can see the benefit of the dollars that we're putting in. We can go to camp, we can be counselors. It's in Casco, Maine, Camp Sunshine. It's a fantastic organization that we've enjoyed immensely being part of. We've done different promotions and summertime promotions to raise dollars for Camp Sunshine and have one more coming up this fall for them.
Charles Watson's favorite Tropical Smoothie Cafe smoothie (and one he doesn't much care for)
So what's your own personal favorite smoothie?
It's tough. You're asking me to pick which kid I like the best. Right now I'm on a Mango Berry Cosmo kick. That's our limited-time offer. It's only here until August. So I've got to get them in while I can. Day-to-day I would say my favorite is the Avocolada Smoothie.
And is there a smoothie that you wish to see added to the menu in the future?
Well, we just talked about Camp Sunshine and we have a smoothie called the Sunshine Smoothie that is orange and mango based. And so that's one of my favorites. I love that. And so I don't know. I may have a trick or two up my sleeve — I do get to make some decisions occasionally around here. So since I like it, and since we love Camp Sunshine, we may see that this fall. We'll see, I may have to bring that one back.
Is there a smoothie that you personally are thrilled is on the menu, but just don't enjoy yourself?
Yeah. And that's like: "Who's the bad kid in the family!" We've got everything right from Island Green Detox, with zero sugar, and ginger, and everything. I have a little bit sweeter palate. So I would say our Island Green Detox is not my go-to, but I understand that should be my go-to from a health perspective. So I actually see myself very much like our consumer who wants to make better choices, but you know what? Sometimes you've just got to go with the taste.