Published on: March 14, 2018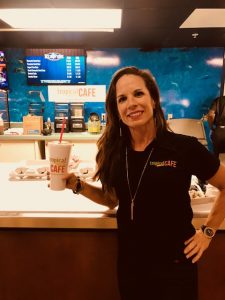 Christina Noordstar and her husband, Quint, opened their first Tropical Smoothie Cafe 15 years ago and just kept going.
Quint's background was in construction and development. Christina is an elite triathlete and distance runner who was attracted to the brand because it encourages healthy choices and a healthy lifestyle. In keeping with Christina's philosophy that life is a marathon rather than a sprint, they have steadily been opening Cafes in the Tampa area in their role as Tropical Smoothie Cafe Area Developers.
"We are passionate about the brand so becoming Area Developers was a no brainer for us, said Christina.
Their newest venture is in an exciting new venue for the brand—the Amalie Arena in Tampa where the husband and wife team opened in two kiosk locations to blend smoothies. They first had to convince arena management that visitors to the Arena, which hosts more than 170 events a year, would appreciate having healthier choices. Although for now their kiosks only offer smoothies, the plan is to transition their kiosks to a permanent location so they can offer Tropical Smoothie Cafe food items as well.
"The Arena is a new, fun place for our business to be. It's a great way for thousands of people to experience the brand that we love," said Quint.