Published on: June 22, 2021
Revised on: April 7, 2022
 As of 03/31/22, Tropical Smoothie Cafe was awarded the TOPSCORE Fund Award and a Fund Score of 910 by FRANdata.
Investors, lenders and Franchise Owners know a winner—Tropical Smoothie Cafe has the highest franchise FUND Score among food industry brands—earning a 910 out of 950 on FRANdata's proprietary scoring report. For comparison, the highest score among QSR segment is only 593. This top score helps boost our reputation as an incredible company and unmatched franchise opportunity for both multi-unit operators and lenders.
How FRANdata calculates a FUND Score.
Designed as a reliable predictor of future performance for lenders, the FUND Score evaluates 13 credit risk and performance categories of a franchise brand that influence unit level performance. A high-performing FUND Score makes it easier to secure franchise financing options. Similar to a FICO credit score used for personal credit ratings, banks and other entities who offer small business loans use the FUND Score to underwrite the brand, determine a borrower's viability and compare brand performance. FRANdata's franchise Credit Score Model relies on careful research and stringent criteria based on up to 10 years of performance history to assign a score, and reports are only available for brands with enough size and longevity to test the algorithm.
Here's a snapshot of how lenders view FUND scores: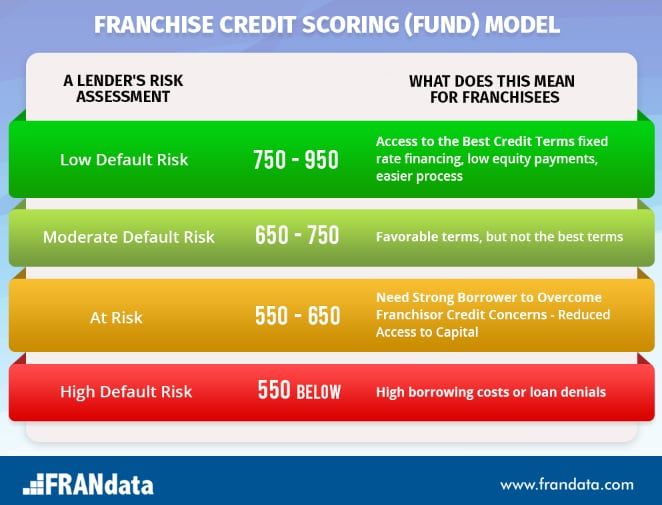 *Image credit: frandata.com
Open A Tropical Smoothie Cafe And Ride Our Wave of Growth.
Growth is a key factor in evaluating a brand's health and continued viability. A Franchising.com article highlights the relationship between a strong FUND Score and a brand's growth trajectory, concluding that brands in the highest category of FUND Scores are growing their systems more than seven times faster than brands in the lowest category of FUND Scores. That focus on growth aligns with our corporate vision. According to Tropical Smoothie Cafe CEO Charles Watson, "Our goal as a brand is to reach 1,500 cafes in the next 5 years. With more than 950 cafes open YTD, we're confident about hitting those numbers."
Our Game-Changing Numbers Lead The Industry.
In the franchise development webinar above (recorded in May of 2021), Tropical Smoothie Cafe CDO Cheryl Fletcher was joined by FRANdata's CFE Darrell Johnson as well as Paul Santomauro, Director of Lending, to talk about industry trends and the lending environment in today's economy.
Overall, the QSR industry performed better than full-service restaurants during the pandemic and achieved positive same-store sales by the first week of May 2020. That trend is expected to continue as the industry recovers, with Tropical Smoothie Cafe poised to outperform the competition through its proven combination of a passion-powered Franchise Family, dedicated corporate support and fresh, delicious menu options that suit all dayparts (breakfast, lunch, snack and dinner.) Our reputation as an award-winning franchise is driven by:
10 consecutive years of positive same-store sales growth
1,000+ locations open nationwide, with nearly 70% of the new store openings were with existing Franchise Owners
133 cafes opened and 332+ franchise agreements signed in 2021
Simplified, streamlined kitchen operations with no fryers or hoods
Offering in-demand dine-in, pickup, delivery, online and/or mobile app ordering options
Lenders Seek Opportunities With A History Of Success.
How does our performance translate into a viable investment opportunity for lenders and Franchise Owners? Lenders are looking for established brands that performed well throughout the pandemic. Banks are looking for ways to deploy capital via small business loans and other franchise financing options to take advantage of a wealth of potential left by underperforming businesses that exited the QSR space because of COVID. Both SBA and conventional lenders are seeking investors interested in a chance to diversify their portfolios with Multi-Unit franchise ownership. Watch this video to learn more about the Tropical Smoothie Cafe story, our legacy of success and what makes us such a fantastic franchise opportunity.
If you're ready to join a passion-powered brand with momentum that won't quit, fill out the form below to get started.