Published on: May 28, 2021
Marlon Sullivan started his executive career as a business analyst, where he worked with Fortune 500 companies in researching solutions to improve his client's processes and systems. Throughout his experience, he returned to school and furthered his knowledge in finance and business.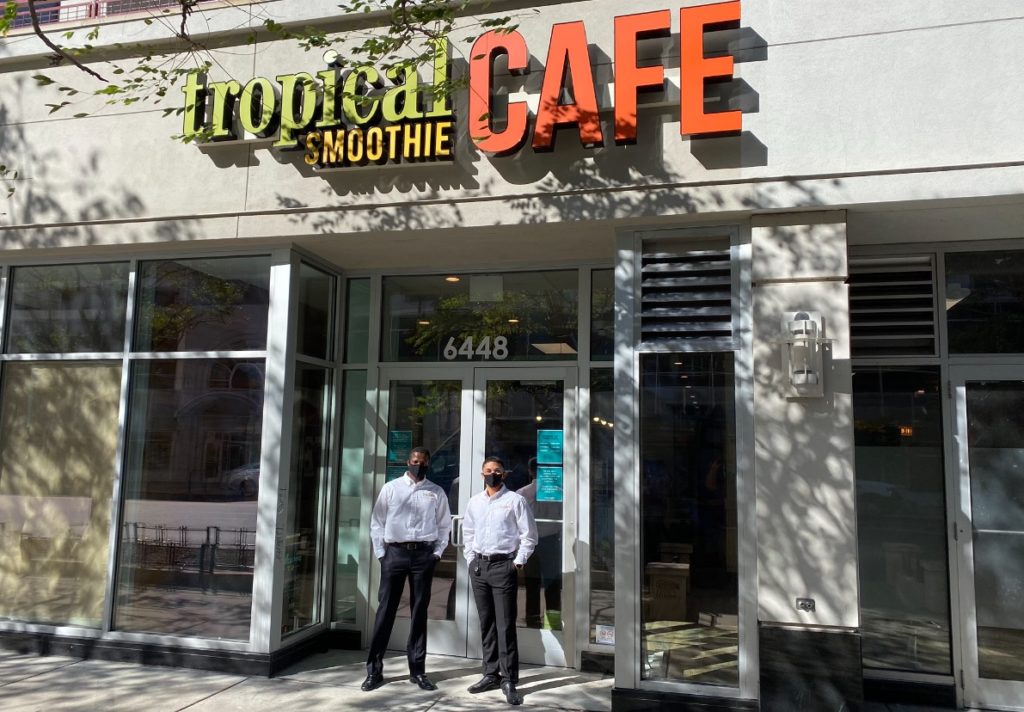 While continuing to work as a corporate executive, Marlon simultaneously started franchising with Tropical Smoothie Cafe with business partner Cesar Coronado, Jr. Their first two Chicago area cafes opened in 2020, and his franchise success story is another great example of the benefits of franchising with Tropical Smoothie Cafe – a brand that is continuing to see growth and momentum.
The Beginning of an Empire
Marlon opened his first Tropical Smoothie Cafe franchise in May of 2020 and his second in October the same year. Marlon was thoroughly sold on the beauty of the franchising model and the way Tropical Smoothie Cafe's menu is conveniently offered to the consumer how they want it – when they want it, whether that's dine-in, pickup, delivery, online and/or mobile app ordering.
"They were growing double digits, so I saw a lot of potential. Leadership has a passion for the brand and passion for wellness, my first meeting gave me a great impression." – Marlon Sullivan, Multi-Unit Franchise Owner
On the way to his first grand opening, Marlon and his business partner were also impressed with the support they received, from working with the real estate team, design and construction, training, and operations, making the milestone event a business and community success.
Rising Above Challenges
The past year has presented a large list of challenges to all businesses, but Marlon leveraged the strong relationship he had with the Tropical Smoothie Cafe leadership team to continue to thrive.
"Tropical Smoothie Cafe went above and beyond for its franchisees. As a franchisee, we also went above and beyond for new hires to make sure everyone felt safe as we opened our cafes." – Marlon Sullivan, Multi-Unit Franchise Owner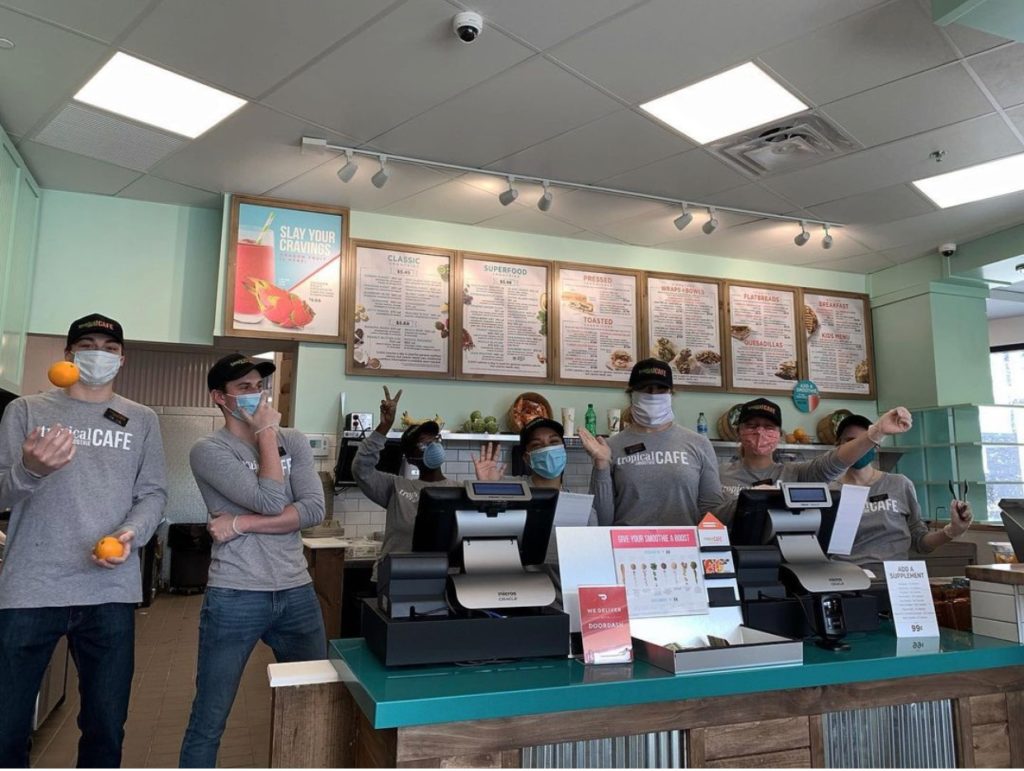 Building a Successful Franchise Legacy
The unique Tropical Smoothie Cafe position that inspires healthier living attracted Marlon's interest, and learning about the potential and growth of the brand reassured him that Tropical Smoothie Cafe was a company he was passionate to invest in.
With Tropical Smoothie Cafes, Marlon found that a mix of smoothies AND food on the menu is a big differentiator versus other smoothie competitors; this drives a higher than average ticket per person at $10.68 and an AUV of $1,079,747* for the top 50% of Cafes in 2020.
Understanding the proven model and stability that franchising provides, Marlon and his business partner wanted to invest in an award-winning franchise opportunity that allowed them to build a legacy and diversify their business portfolio.
"Investing in a franchise that aligned with my values and lifestyle was important, and Tropical Smoothie Cafe was a great fit. I was impressed about the brand because it truly inspired healthy living." – Marlon Sullivan, Multi-Unit Franchise Owner
The Future Has Never Looked Sunnier
Today, Marlon and his partner have taken a deeper focus into franchising and they have been more dedicated to growing their Tropical Smoothie Cafe restaurant footprints. While keeping his job in the corporate world, Marlon's commitment to diversify his portfolio has led him to great success in the franchising industry.
"The main reason we are excited is the value proposition that Tropical Smoothie Cafe brings. It truly is a 5-minute vacation for our guests" – Cesar Coronado, Jr., Multi-Unit Franchise Owner
With a third location on the horizon, Marlon and Cesar join the over 950 Tropical Smoothie Cafe locations nationwide, with 70% of existing Franchise Owners continuing to expand. And now, the accolades are starting to roll in. This year, he and his business partner were named "Rookie of the Year"at the Tropical Smoothie Cafe Annual Franchisee Awards Ceremony.
If you are interested in owning a Tropical Smoothie Cafe and joining our team of passionate Franchise Owners, just fill out the form below.