Published on: March 28, 2019
Rylan and Jennifer Miller, owners of multiple Tropical Smoothie Cafe franchises in North and South Carolina, have been named winners of Multi-Unit Franchisee Magazine's Influencer Award for Husband & Wife Team! The Millers received their award in March at the 18th Annual Multi-Unit Franchising Conference MVP Awards ceremony in Las Vegas.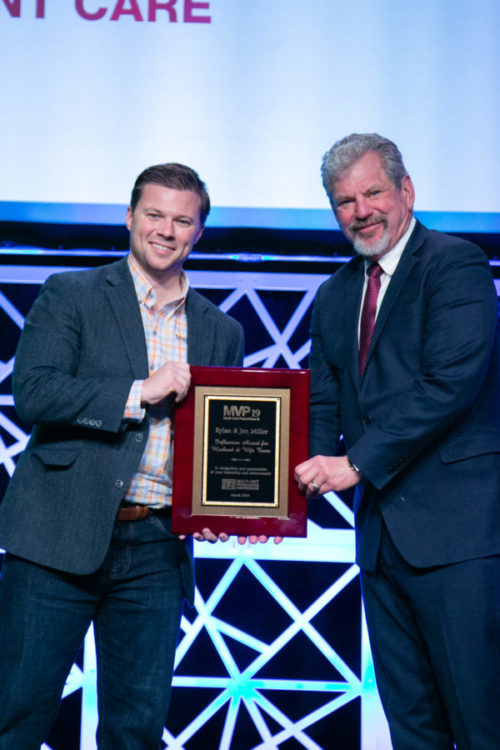 Rylan, a U.S. Navy veteran, first heard about the Tropical Smoothie Cafe franchise concept years ago while stationed in Virginia Beach. He and Jennifer both became big fans of Tropical Smoothie Cafe's smoothies, sandwiches, and wraps, and believed in the brand's values. So, after Rylan finished his deployment as mission commander and UAV pilot for the Department of Defense in 2016, they knew what they wanted to do next: own a Tropical Smoothie Cafe franchise. The company's VetFran incentive program, which significantly reduces the franchising fee for veterans, sealed the deal.
But they didn't stop with just one location. With the success of their first franchise, the Millers decided to offer the brand's better-for-you lifestyle to not just those in their community, but to others in nearby towns who may not have been exposed to our type of dining experience. So, they opened a second location… then a third! The Millers now have six open Cafes, three of which were new developments and three acquisitions. And there's more to come. They just can't get enough of Tropical Smoothie Cafe because, apparently, their customers can't either!
Rylan and Jennifer know how important the locals are to the success of small, locally owned businesses like theirs. Always looking for fun, new ways to invest in the community, the Millers have hosted fundraisers and sponsored events to help local organizations, such as the Boy Scouts, the Humane Society, local schools, and more. It's probably no surprise to you that the Millers' franchises earn high guest satisfaction scores, which they attribute to the customer-first mentality they instill in each of their team members. No wonder the Millers won Multi-Unit Franchisee Magazine's 2019 Influencer Award for Husband & Wife Team and Tropical Smoothie Cafes' Multi-Unit Franchisee of the Year award!
Learn more about how you can make an influence on your community with a Tropical Smoothie Cafe franchise.