Published on: February 26, 2021
Laura Michaels | Feb. 24th, 2021 | Franchise Times
When Laura Jankowski opened the first Tropical Smoothie Cafe on Long Island, New York, in 2006, "most people didn't even know what a smoothie was. They'd equate it to a 7-Eleven slushie," she recalled.
Tropical Smoothie, with more than 900 locations today, had fewer than 300 when Jankowski joined the system, and as an area developer for 16 years she helped build the store count on the island to 19, including the four she now operates.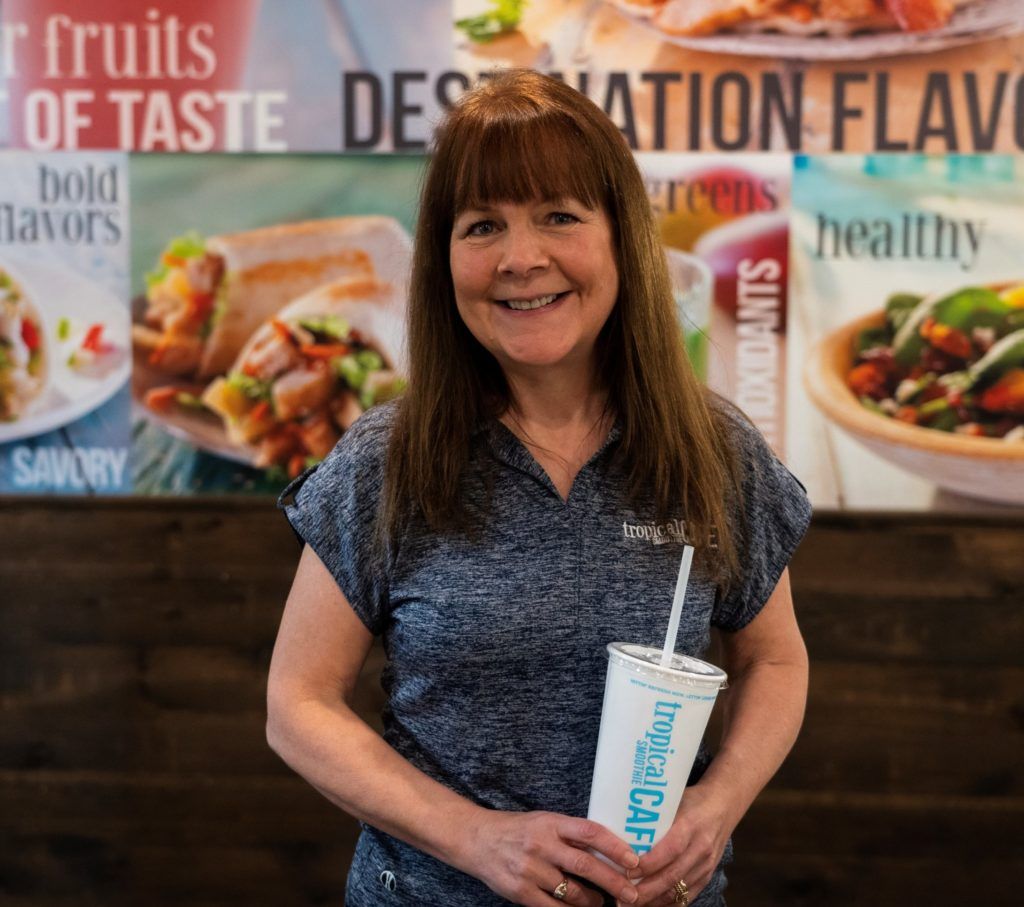 Coming in with zero restaurant experience, Jankowski was impressed by what she called Tropical Smoothie's "two concepts in one." "It's smoothies, plus food to get us through the winter," she said. After a trip to Virginia to check out some stores, she "absolutely fell in love."
The winner in our Guilt-free Eats category examining restaurant franchises with a healthy bent, Tropical Smoothie Cafe rose to the top in part because it captures multiple dayparts with a menu of breakfast, lunch, dinner and snack items. The Atlanta-based brand received high marks from our research team for return on investment and a detailed Item 19 that provides a breakdown of revenue by quartile going back to 2017. Average sales increased nearly $90,000 since 2017, to $768,831 for 2019. For the top 50 percent of stores, that average revenue is $982,486.
The investment range to open a single unit starts at $198,500, the lowest of our four finalists, and goes up to $543,500.
While Tropical Smoothie demonstrated a strong track record of openings, including 130 in 2019, 114 in 2018 and 104 in 2017, it did have a combined 54 closings during that time period, with 33 of those being terminations. The remaining 21 were temporary closures, "due to a relocation, extensive remodel, or hurricane damage, among other factors," the company said. "If a unit remains temporarily closed at the end of the fiscal year, even if it plans to reopen, we are required to report them as closures in the FDD."
Success isn't a given, and being a strong operator means being an engaged owner, said Jankowski, while also investing in store managers and continuing to reward them. "I believe in putting the money in to get to the goals you want to," she said, a mindset that's translated into setting clear benchmarks for managers and aligning them with bonuses.
Jankowski uses management platform Monday.com, which has a bonus board feature and lets managers track their performance on metrics such as increased transactions and internal audit grades. "I let them run the stores as if it's their own and they treat it that way," said Jankowski of the autonomy she gives her team.
That strong management structure helped Jankowski weather the initial, massive hit to sales at the start of the COVID-19 pandemic, when some units were down 70 percent "and it was like, how are we gonna get out of this," she said. Tropical Smoothie's marketing team went "full-speed ahead to make us a brand of choice," she continued, and having the infrastructure in place for online ordering and third-party delivery really paid off.
"Out of the four stores I own, three of them hit a record" in 2020, Jankowski said.
Nick Crouch, co-CEO of DYNE Hospitality Group with 75 Tropical Smoothie stores in six states, also credited the brand's quick response early in the crisis with helping franchisees fight their way through.
"The brand provided great resources, marketing, artwork, everything to get guests to come in during that time," he said, plus it reduced royalty fees for several weeks. "Our sales are back and then some."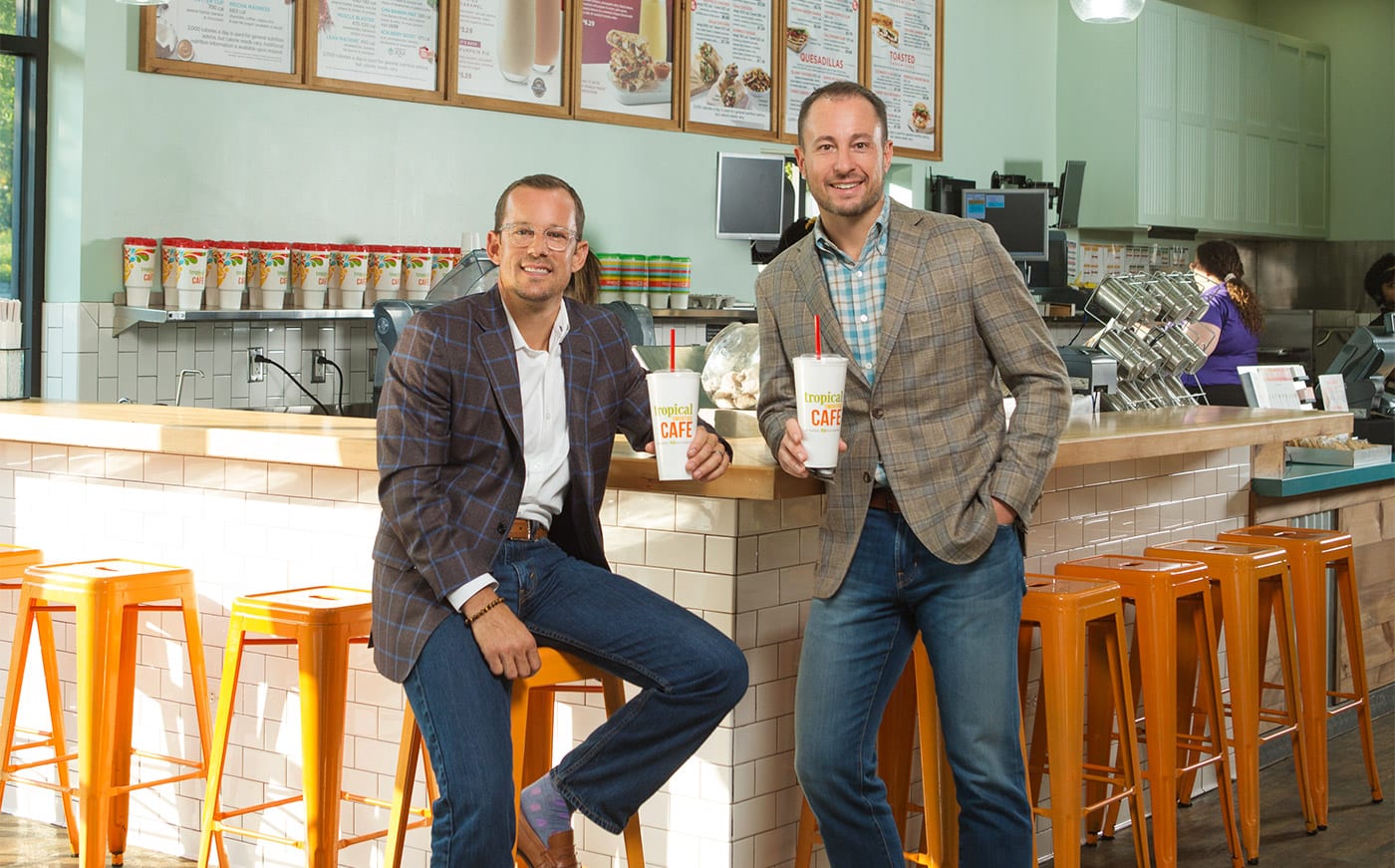 Crouch, who with Glen Johnson formed DYNE Hospitality in 2017 when he had 15 stores and Johnson had 26, said Tropical Smoothie's made-to-order food and healthy smoothies initially attracted him to the brand, along with its compact size at 1,300 to 2,000 square feet.
"I liked the footprint of the business, that I could grasp the whole business," he said. "It wasn't a 5,000-square-foot restaurant where it's easy for a manager to lose touch."
Johnson, meanwhile, sought a concept he thought would fare will during a recession, "not a business that would just evaporate when there was a downturn." Tropical Smoothie has proven itself as that brand, he explained, because it allows consumers to "dine down," meaning they can still afford to go out to eat without spending a lot. The average ticket at their locations is $10, and "you can get a smoothie for $5," Johnson noted.
Like Jankowski, Crouch and Johnson attribute much of their success to the people they employ and their emphasis on a culture that invests in people. "Coupled with running a very clean, organized and over-the-top-attention-to-detail operation," said Crouch.
Now Tropical Smoothie's largest multi-unit operators, Crouch and Johnson said the brand's leadership actively seeks their opinion and buy-in, but that's been the case since the beginning. "Even when I just had two locations, I can remember talking to the CEO at a roadshow about ideas to empower the brand," said Johnson in reference to former CEO Mike Rotondo. Charles Watson, appointed CEO in December 2018, has continued that open line of communication, something especially important during ownership changes, most recently when Levine Leichtman Capital Partners acquired the franchisor from BIP Capital in September.
"There's always some uneasiness and some unknowns," said Johnson of the change in private equity owners. "It's always in the back of my mind, what's going to happen. But it's ultimately always been really good for the brand."
BIP "basically opened their wallet to us," noted Jankowski. And while the deal with Levine Leichtman is still new, "I believe they have the same mindset of helping us get where we want to go." That includes the rollout of a new cloud-based point-of-sale system, now in its final stages of testing and something all three franchisees noted is needed to help them manage the uptick in digital sales and improve labor management.
Passing advice to prospective franchisees, Jankowski emphasized the importance of calling existing and former operators as part of the due diligence process, no matter the concept. "They're either going to talk you into or out of something," she said.
And for Johnson, it's just as important to find a franchisor that puts its relationship with franchisees first. Otherwise, he said, "it can make being a franchisee a lot more painful that it needs to be."