Published on: June 28, 2022
New employment strategies key to rapid expansion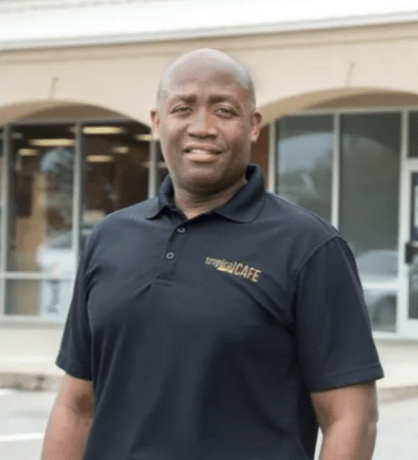 When U.S. Army Major Reginald Foster began planning his retirement, he used the same level of detail he had employed in the military.
He started putting together a business plan. His wife, Zenna, researched franchise operations.
They chose Tropical Smoothie Cafe for its healthier foods, then approached Eric Frickey in the Augusta office at the University of Georgia Small Business Development Center (SBDC) for help.
"Eric helped tweak the plan I'd been working on, then helped put together a detailed set of projections we could show to the bank," Foster said. "The bank said it was spot on — no issues or adjustments."
The loan allowed for start-up expenses, store build-out and equipment. SBDC faculty member Rick McMurtrey helped them pick the first location and their first Tropical Smoothie Cafe opened in Augusta in March 2016.
New stores at Fort Gordan in Augusta and in nearby Evans followed in 2017. Later that year, Foster went back to the SBDC to help plan new franchises at Fort Benning in Columbus, Ga., and Fort Bragg in Fayetteville, N.C.
"Foster's lender had requested a full set of projections including the cash flow from his existing stores," Frickey said. "We provided a detailed set of projections, and the stores opened in 2018."
Rapid growth brought a new set of challenges. "As he put in more locations, he needed more employees," McMurtry said. "How does he find them and determine their qualifications?"
Following McMurtrey's advice, Foster overstaffed the Fort Bragg store and identified managers for the second store he'd planned there. When it opened, those employees were ready to run the new store.
The Fosters now employ 58 people and are preparing to open another store in Augusta. Sales continue to grow. And Foster has been recognized by Entrepreneur magazine for his top-selling stores. "The thing that makes Reggie successful is the one thing that makes almost all small business owners successful," McMurtrey said. "From day one, he has had that 'whatever it takes' mentality to make his franchise successful. Those who do well will work as hard as he does on their business."