Published on: May 25, 2018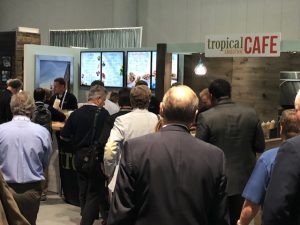 The Tropical Smoothie Cafe development team descends on Las Vegas for the annual International Council of Shopping Centers (ICSC) RECon The Global Retail Real Estate Convention. A replica of a Tropical Smoothie Cafe location provided the back drop for the brand at the event in 2018 and continues to be a popular attraction for attendees.
During a typical ICSC event, the Tropical Smoothie Cafe team serves over 5,000 smoothies and sandwiches over 12 hours in 2 days in the store prototype.
"Most consumers know us for our amazing smoothies," commented Charles Watson, Chief Executive Officer for Tropical Smoothie Cafe. "This gives us the opportunity for them to also taste our sandwiches which are a huge draw and help drive up our average guest check," added Watson.
At over 830 locations throughout the United States, Tropical Smoothie Cafe is looking to heighten brand awareness in the real estate community with both landlords and brokers. "We want to drive Tropical Smoothie's value proposition in the real estate industry which ultimately will drive interest for our brand in A+ locations," said Watson. The brand opens two Cafes per week, making this initiative more important that ever.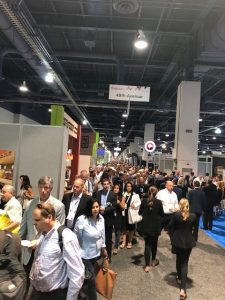 "As excitement and momentum continues to grow for the brand, we continue to see the volume for better real estate opportunities surface for our Franchise Owners. By forming deeper relationships with landlords, we will continue to negotiate better terms on their behalf," commented Watson. With the growth of the brand, this is just another way Tropical Smoothie Cafe is working diligently to drive Franchisee profitability.
If you are interested in joining the fast-casual food and smoothie franchise, complete the form below.