Published on: March 21, 2018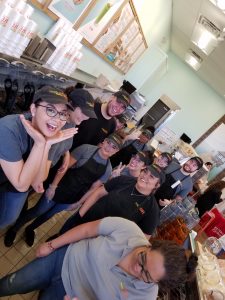 It's madness at Tropical Smoothie Cafe with tons of Franchise Owners opening Cafes in their neighborhoods. Take a look at the newest openings this month!
– Arvada, Colorado: James and Michelle Dye moved to Colorado, where they quickly realized one of their favorite local Ohio brands, Tropical Smoothie Cafe, was needed in the market. James is well versed in people and resource management from his 30-year military career, and Michelle works for the State of Colorado as a budget analyst. They have passion for the brand that crosses over state lines and are excited to share their favorite brand with their new hometown.
– El Paso, Texas: At 7am on opening day, Kaleb Warnock and Paula Flores-Warnock's third Cafe already had a line of more than 200 people waiting to be a part of the Grand Opening celebration. Who could blame them with Tropical Smoothie Cafe's menu of better-for-you food and smoothies?! Kaleb has been impressed with the brand since the beginning of his journey with the franchise and this love for the brand has help to fuel his growth within the system. To read more about Kaleb and Paula's Tropical Smoothie Cafe journey, click here.
– Charlotte, North Carolina: A year ago, John Agori and Mark Rein signed an agreement for ten Cafes. This is their second Cafe to open and they can't wait to continue growing their empire in the Charlotte market.
– Monroe, North Carolina: Vipul Patel was a sandwich shop franchisee who was excited to add Tropical Smoothie Cafe to his portfolio. This is his second Cafe and he looks forward to opening more in the upcoming years and offering a better-for-you food and drink option to his community.
– Laurel, Maryland: Arpit and Samarpit Patel both join Tropical Smoothie Cafe with QSR management experience. They will be working with their accountant, Shwet Patel, who has six years of restaurant and hotel experience. Arpit and Samarpit are very enthusiastic about owning a Tropical Smoothie Cafe and plan to have multiple units over the next five years!