Published on: December 22, 2017
Franchise and food service veteran, Emily Harrington, recently signed her second multi-unit franchise agreement with Tropical Smoothie Cafe in less than a year to develop eight more cafes throughout the state of Florida. Tropical Smoothie Cafe has experienced a surge in franchise development recently, with Harrington's two multi-unit deals contributing to the large number of agreements signed.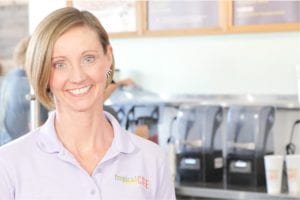 After over 20 years, we have many accomplishments to celebrate – over 830 Cafes and 124 franchise agreements in 2019 alone. It is because of our passionate and committed franchise family like Emily Harrington that we have seen accelerated development and we have rapidly grown our national footprint. Since joining the company, Emily's industry expertise has been a driving force to further expand Tropical Smoothie's founding state of Florida. Harrington signed her first franchise agreement with Tropical Smoothie Cafe in 2016 for four new units and the purchase of two existing Cafes in Tampa. Her ultimate goal is to own at least 50 Tropical Smoothie Cafe's throughout Florida. A U.S. Army veteran and seasoned multi-unit operator, Harrington's experience has led her to franchising success, previously owning 42 Hardee's restaurants prior to joining Tropical Smoothie Cafe.
"I come from an extensive background in the franchise and foodservice industry, which gave me a unique edge when researching brands to invest in. Through my own experience, I know what it takes for a concept to be successful and it was obvious to me that Tropical Smoothie Cafe possessed those qualities. Its better-for-you food and smoothie lineup is impressive in and of itself, but after signing my first agreement, working with the company's seasoned leadership team and further familiarizing myself with the business model, I knew that this brand was a standout in the industry," said Harrington. "Now armed with the knowledge and expertise of operating two successful cafes' in Tampa, I'm proud to expand my portfolio and continue growing this incredible brand's presence throughout Florida and beyond."
We're proud to have Franchise Owners like Emily as partners in our franchise family. If you're interested in opening a Tropical Smoothie Cafe in your area, complete the form below and a Franchise Development Leader will be in touch.
Click here for the original press release.