Published on: April 13, 2018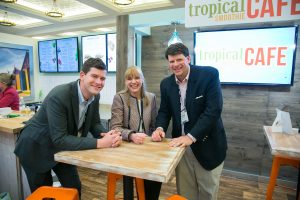 Members of Tropical Smoothie Cafe's Franchise Development Team and some of our Multi-unit Franchise Owners were in attendance at the Multi-Unit Franchising Conference (MUFC) in Las Vegas.
The Conference is a must-attend event for multi-unit owners of other franchise brands checking out concepts to add to their portfolios. They had the chance to hear from Tropical Smoothie Cafe Franchise Owners Craig LeMieux and Emily Harrington who spoke at sessions during the Conference.
Craig LeMieux and his wife Dianne joined Tropical Smoothie Cafe 2004 and have built territories in Michigan, Colorado, and Northern Ohio. They have 75 Cafes now open, with 48 more in development.
Emily Harrington has 5 locations in Florida, with 11 more in development.
Attendees also had the chance to experience the brand up close and personal at the Tropical Smoothie Cafe booth, which was built to mimic an actual store location.
Chief Development Officer Charles Watson was pleased with the response he and his team received at the Conference.
"We heard from several people who said they wanted to see for themselves the brand that is getting all the buzz," said Watson.
If you are interested in joining the fast-casual brand that everyone is talking about, click the LEARN MORE button above.