Published on: November 15, 2017
Tropical Smoothie Cafe continues to grow throughout the U.S., showing demand for smoothies and healthier food in all sorts of climates. In fact, we've opened 124 Cafes in 2019 with 60% of them coming from current Franchise Owners. And, thanks to our innovative menu of both smoothies and food that people love, we have an impressive average ticket.
Now let's spotlight some of our top multi-unit franchise performers.
Rylan & Jennifer Miller: 2019 Franchisees of the Year.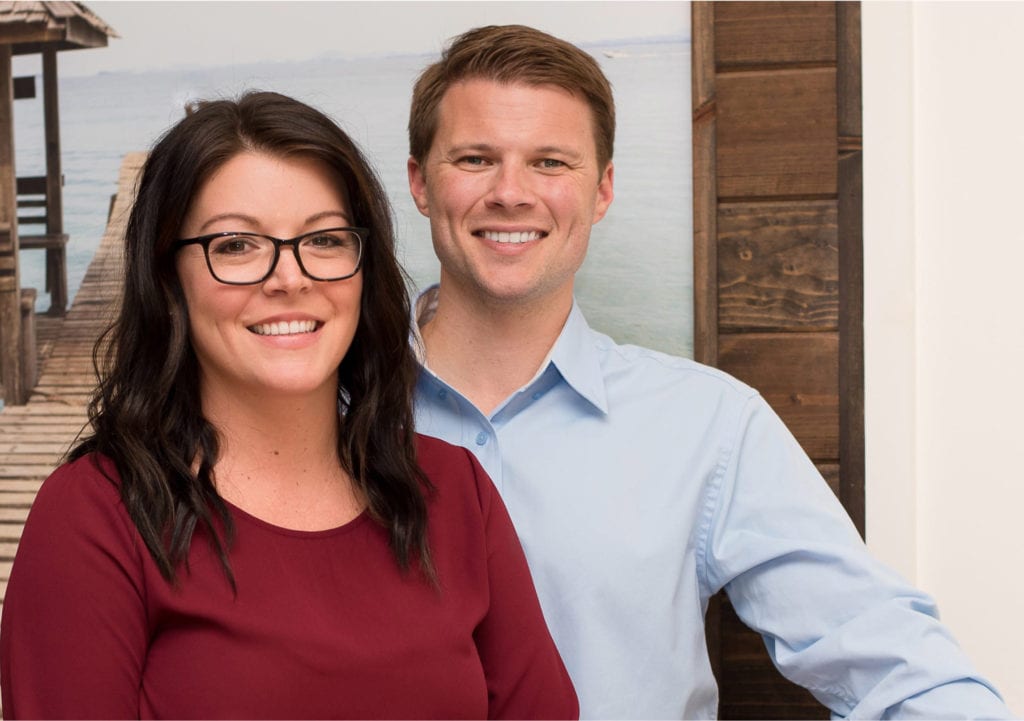 Rylan and Jennifer Miller were recognized as the Tropical Smoothie Cafe's Franchisees of the Year in 2019. They also won the Influencer Husband and Wife Team by Multi-Unit Franchisee magazine at their Multi-Unit Franchising Conference MVP Awards ceremony. Add to that, they welcomed their first child.
As exciting as all this has been for this ambitious couple, they are certainly not resting on their laurels. Their goal is to own a number of Tropical Smoothie Cafes, and with 12 under their belt, they are already well on their way.
Their love for the brand began with trips to their neighborhood Cafe when they were stationed at the naval base in Virginia Beach, Virginia. When these brand fans began looking for a franchise opportunity for themselves, Tropical Smoothie Cafe was their first choice.
Being part of a franchise business that has plenty of room for expansion keeps the Millers inspired and ready for any challenge. "The unit economics are there, and the business is healthy. That's what drives us to open more," said Rylan.
Glen Johnson & Nick Crouch: Featured in Multi-Unit Franchisee magazine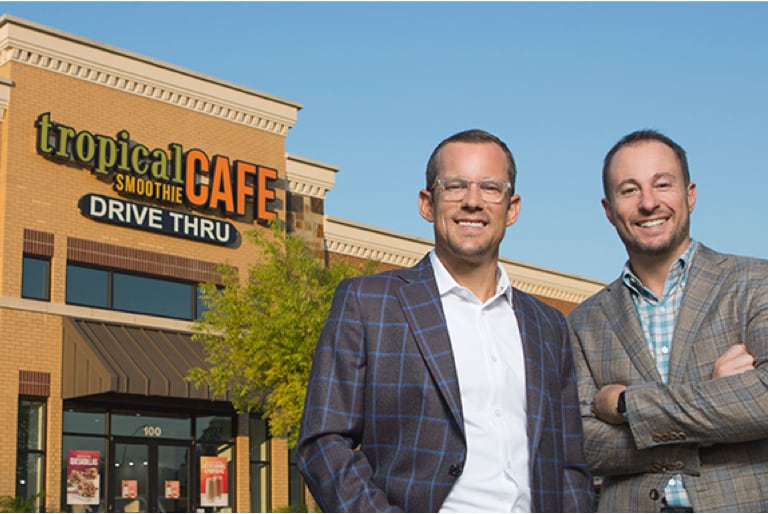 Multi-unit owners Glen Johnson and Nick Crouch were featured on the cover and in an article in Multi-Unit Franchisee magazine. This ambitious duo serves as a great example of our passion-powered franchise opportunity, with owners who love the brand so much they continue to expand. In fact, 60% of our new agreements have come from current members of our franchise family.
Here are some excerpts from the article as they talk about their professional roles, their business partnership, and why they chose to invest in Tropical Smoothie Cafe.
What are you doing to take care of your employees?
GJ: We focus on creating as many opportunities for advancement as possible, having a great culture, and creative benefits. Focusing on promotion from within and investing in our team are priorities for us. We want our team to know if they stick with us there is a career path for them because we will never stop growing.
What are the most important things you rely on from your franchisor?
NC: Menu innovation, great national marketing, and brand presence and support, especially in new and emerging markets we are entering. We also look for the brand to use its buying power and help us improve the bottom line.
Mike Haines: Facebook and Microsoft Exec leaves corporate world to open franchise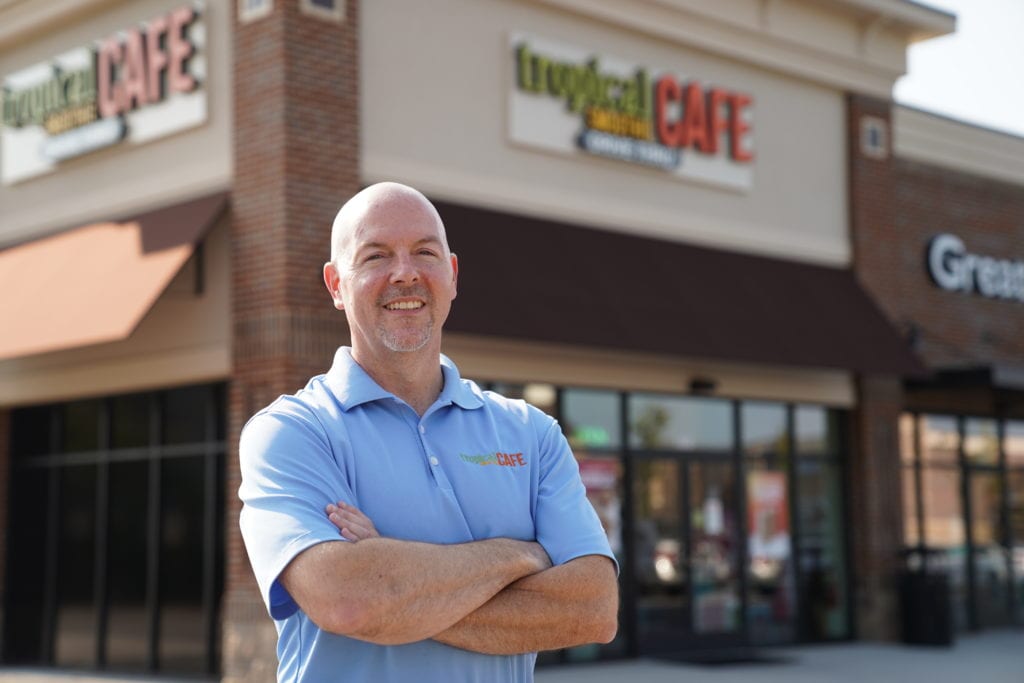 Mike Haines has been a Franchise Owner with Tropical Smoothie Cafe since 2015 when he signed a development agreement to open 10 restaurants in North Atlanta. Mike worked in sales for 15 years at Facebook and Microsoft before deciding to leave corporate America to become an entrepreneur.
"My background in sales, marketing and engaging consumers through a variety of communication channels and platforms provided me with the experience and knowledge I need to own my own business," said Mike, who lives in Cumming, Ga., with his wife and three daughters.
When it came time to start his business, he opted to franchise because he understood the value of being backed by a proven concept.
"With an established franchise, there's buying power and organizational expertise I can benefit from that I wouldn't have on my own," he explained. "Additionally, developing a brand, investing in the right technology, creating systems and processes, and menu development are expensive, time-consuming objectives that as an independent owner I could never keep up with the way a good franchisor does."
Tropical Smoothie Cafe was the obvious choice for Mike. He loves that the brand is on-trend with shifting consumer preferences who want healthier eating options as well as our strong unit economics and continued same-store sales growth.
"The company is really focused on franchise success and profitability," he added.
Keep up the great work
We salute all our Franchise Owners and are here to help them keep reaching their goals. Whether, like them, you're a brand fan or a multi-unit owner looking to diversify your portfolio, now is the time to consider buying a better-for-you franchise with Tropical Smoothie Cafe.
Please complete the form, and a member of our Franchise Development Team will contact you. We look forward to getting to know you better.