Published on: November 3, 2020
October 3rd, 2020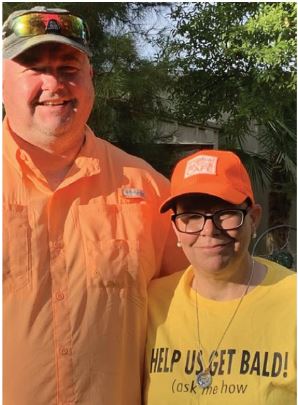 What brand of service were you in, what did you do and what was your rank when you left the military?
Steven and I were both in the Navy, and held multiple jobs within our branch. I started off as a cook during the Persian Gulf War and eventually ended up as a Military Police Officer. I was in the Navy for 10 years. Steven also served in the Persian Gulf War and Operation Enduring Freedom as an Air Traffic Controller, and retired as an E-7: Chief Petty Officer.
What is it about franchising that attracted you to it? Are there any parallels between your experience in the military and the franchising business model?
The franchising business model gives franchise owners structure and responsibility. There are many parallels between our experience in the military and the franchise world! Military experience gives you structure and teaches you to be a leader, honest, reliable, and to serve. The franchise model is very similar in that sense. Tropical Smoothie Cafe encourages franchisees to be involved with and support their communities. Our military experience and owning a franchise work hand in hand when it comes to the responsibility to serve others.
When and why did you choose to franchise with Tropical Smoothie Cafe?
We opened our first Cafe in July 2019 and have had an incredible year so far as part of the Tropical Smoothie Cafe family. Our efforts and involvement led us to become Rookie of the Year for the brand in 2019. What attracted us to Tropical Smoothie Cafe was the shared values and vision. Steven and I share the same passion to serve the community, and the brand prioritizes being a part of our community and giving guests the best experience.
How many Cafes do you currently own? Do you have more in development?
We own and operate one Cafe in Schertz, Texas (San Antonio market). We have plan to open another in the same market but are still working to lock down a location. Finding the perfect location is our biggest priority, as we want to engage and be involved in that community there just as we are in Schertz.
Are you involved with any local charities?
We're incredibly engaged with our community. Something we're very passionate about is cancer awareness, and we strive to give support wherever we can to help those in our community that are affected. We have held many awareness events to support our community. We're also engaged in local schools and students by helping support academic clubs and athletic teams.

Earlier this year, we held a fundraiser to raise awareness for childhood cancer. A local nine-year old warrior who was fighting cancer passed away, and on what would have been his tenth birthday, Steven and I proudly gave kids 10 and under his favorite smoothie. We raised nearly $2,500 and donated it to the family. We understand how devastating this is, and our family always wants to be here to support our community, no matter what kind of contribution it is. Now that it's Breast Cancer Awareness month, for every Bahama Mama smoothie ordered through the end of the month of October, we will give two dollars to the National Breast Cancer Research Foundation. One of the most recent activities I did was dye my hair pink, put up signs around the Cafe, and give away various trinkets to our customers to raise awareness for the cause. We also added a pink ribbon to all of our smoothie cups.

During the height of the pandemic, we also donated about 3,000 smoothies to first responders, nurses, doctors and other essential workers to show our love and support.

Lastly, another initiative we're a part of in our community is the Operation Battle Buddies program. The program gifts puppies with a purpose to become service dogs for disabled veterans. I was blessed with an amazing pup, Hope, who has become a service dog and assists me with my physical needs. The program helps veterans train with their new dogs and engages in the community wherever they can. We feel blessed to be a part of an amazing program, and we try to participate with them whenever we're available.
What advice do you have for veterans looking to open a franchise?
The biggest piece of advice I can give a veteran looking to open a franchise is to do your research and find a franchise that you wholeheartedly believe in and share the same vision. If you're passionate about the brand that shares the same values as you, you'll be amazed with what you accomplish. In order to be successful, relationships with the franchisors and the community are imperative.