Published on: August 13, 2021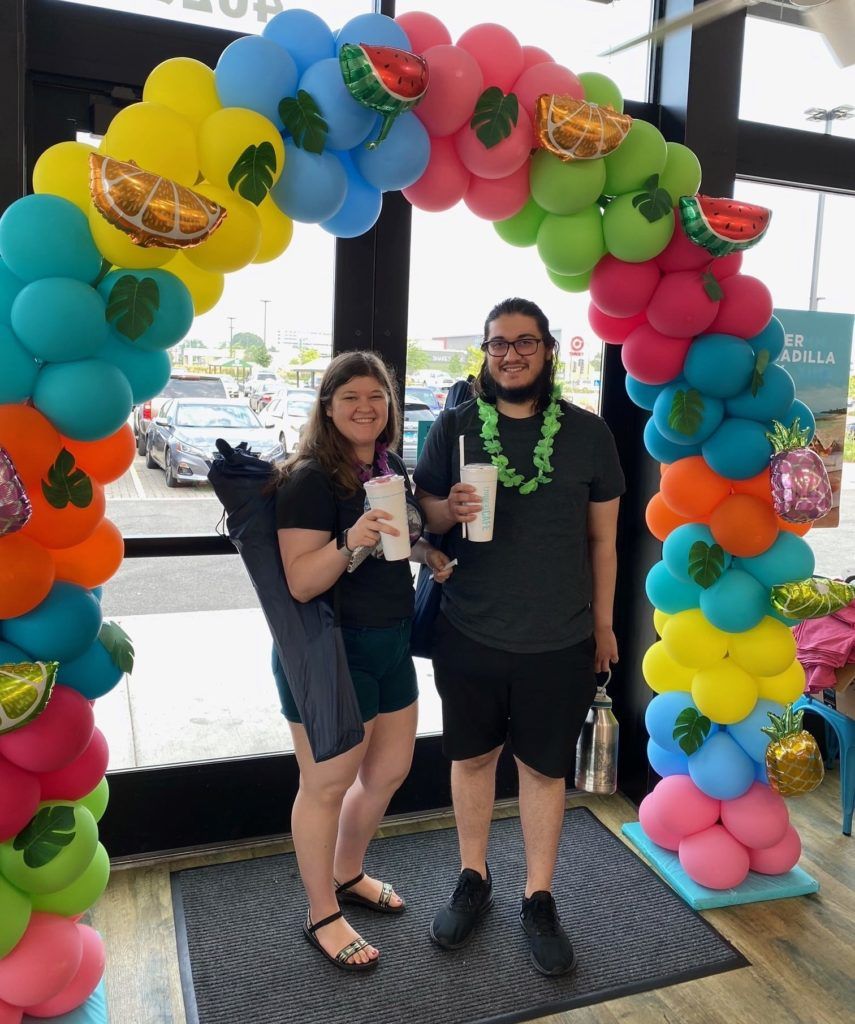 Things are really popping in Chicago as we continue our franchise expansion with four – count' em, four – Tropical Smoothie Cafe grand opening celebrations. These new locations further reinforce the success we are having in our expansion efforts in the Midwest. The grand opening celebrations were held simultaneously on Saturday, August 7, in Melrose Park, Lake in the Hills, Oak Lawn and Lake Bluff, bringing the number of Chicago Tropical Smoothie Cafe franchised locations to 21. All four of the new Cafes are owned by existing Tropical Smoothie Cafe Franchise Partners who continue to invest in the brand, and they're not alone as the number of our Multi-Unit Franchise Owners grows every year.
These four, very ambitious owners are sold on Tropical Smoothie Cafes:
Mich Group Holdings, LLC (Melrose Park): Opening their seventh Chicago location and have several more in development. Hani operates seven additional Cafes in Michigan.
Gina Delmonico-Williams and Dan Beaulieu (Lake in the Hills): Opening their second Chicago-area Cafe in less than a year, with Dan also operating six Cafes in Florida.
Roma and Chris Patel (Oak Lawn): Opening their first Tropical Smoothie Cafe in Chicago. This Cafe will be Roma's 14th location since becoming a Franchise Owner of the brand in Ohio eight years ago.
Serve Hospitality Group (Lake Bluff): Salem Najjar and George Trakas are opening their third Cafe in the Chicago area, with Salem operating seven other locations in Michigan and Wisconsin, with more planned.
This is truly an exciting time to open a Tropical Smoothie Cafe franchise, to be in the Chicago market and to have four grand openings happening in one day. Numerous grand opening festivities were planned to help support our Franchise Owners and to generate some community buzz.
Bringing a little sunshine to our neighborhood and its heroes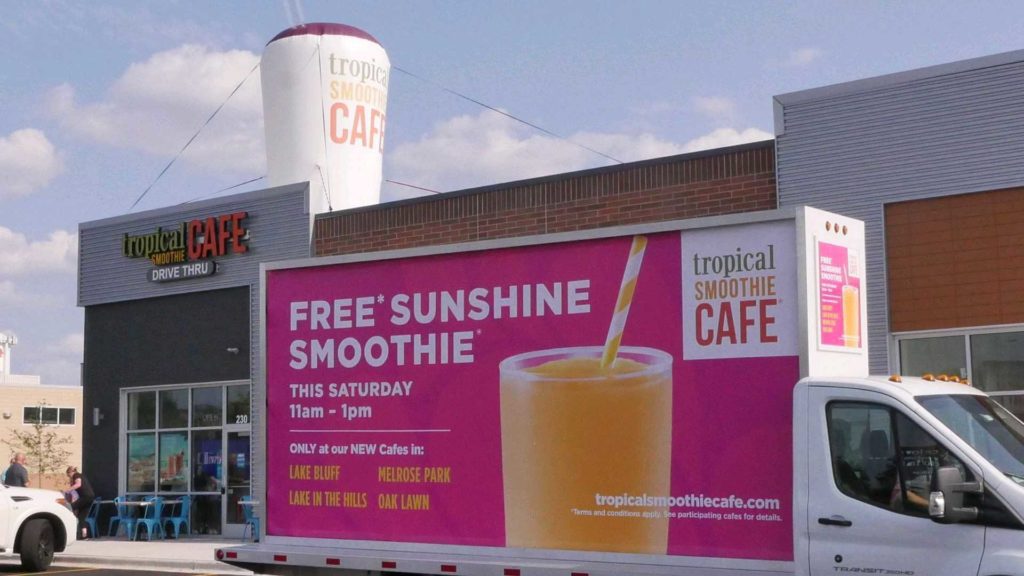 On Aug. 4, the festivities kicked off by inviting all first responders in the area to join in the grand opening party and receive a free smoothie. And everyone loves FREE smoothies. As an additional way to drive excitement, the first 50 guests at each Cafe, win free smoothies for a year! On Aug. 7 representatives from the local chamber of commerce were on site to officially open the new locations with a ribbon cutting ceremony.
Our growth wave rolls on
The multiple locations celebrating a grand opening on the same day in the Chicago market comes on the heels of a record-breaking second quarter with 2-year same-store-sales up 29%. This year, Tropical Smoothie Cafe has opened 65 new franchises and executed over 200 franchise agreements, The four new Chicago locations are helping push us even closer to hitting our goal of opening 130 Tropical Smoothie Cafes this year.
We love to celebrate
Grand openings are a great reason to get together and celebrate but we also know our incredible growth wouldn't be possible without our current Franchise Owners believing in Tropical Smoothie Cafe while they continue to invest in our unprecedented expansion. Our impressive growth numbers include two major multi-unit deals with existing Franchise Owners, proving that they continue to recognize the outstanding business opportunity Tropical Smoothie Cafes provide.
The next grand opening could be yours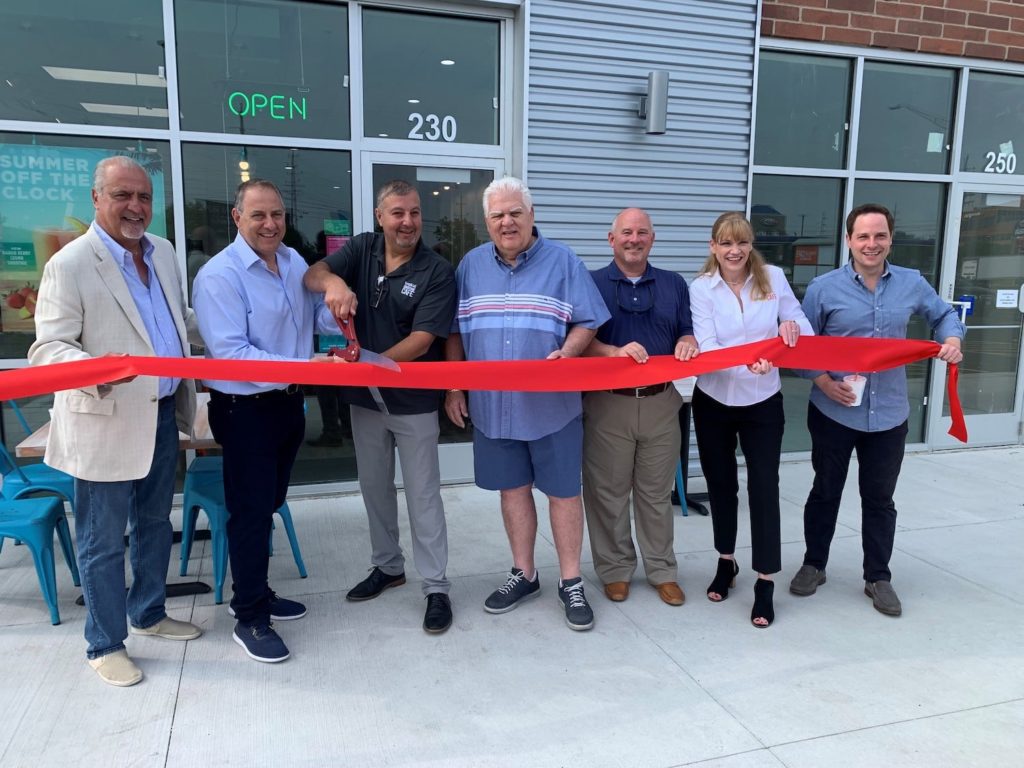 There's never been a better time to diversify your portfolio by adding a Tropical Smoothie Cafe. With 9 consecutive hears of positive same store sales growth, 975+ locations nationwide and 70% of our existing Franchise Owners continuing to expand, there's no mystery as to why we're one of the fastest growing franchise opportunities in the country. And don't forget all that wonderful support, when you join the Tropical Smoothie Cafe family, we never stop helping you achieve your business goals.
If you are interested in owning a Tropical Smoothie Cafe and bringing food, smoothies and smiles to your community, just fill out the form below.