Published on: April 3, 2017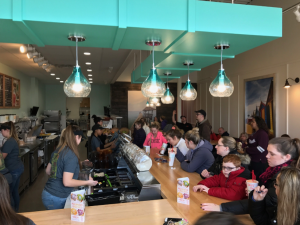 According to a 2019 report released by the National Restaurant Association, U.S. restaurant industry sales were expected to reach a record high of $863 billion, up 3.6% over last year. "The growth rates for the industry are definitely more moderate than before the onset of the Great Recession in late 2007," said Hudson Riehle, the Nation's Restaurant Association's senior vice president of the research and knowledge group, in an interview. The Washington, D.C.-based industry group has made annual estimates of restaurant sales growth since 1970, Riehle said, and the compound annual growth rate between 1970 and 2019 is 6.4%.
Record-breaking growth surpasses industry
Our focus on flavors and innovations has helped us to develop a menu that continues to meet the changing trends and needs of our customers. We offer them the healthier alternatives of fresh food and delicious smoothies that they crave, which helps fuel our success. In fact, we've surpassed the industry growth rate with sales of 5.6% in 2019.
$938,500* Average Net Revenues top 50% of Cafes
Eighth consecutive year of same-store sales growth
Opened 124 cafes in key markets throughout the U.S. such as Dallas-Fort Worth, Tampa and Chicago
Signed 213 franchise agreements, with more than 60% coming from our existing franchisees
Recognized amongst Fast Casual's Top 100 Movers and Shakers, Nation's Restaurant News' Top 200 and Top 10 Fastest Growing Chains, Franchise Times' Fast and Serious, as well as Entrepreneur's Best Franchises for Any Budget lists in 2019.
We're proud to reflect on 2019, recognizing it as a record-breaking year for us and our Franchise Owners. We opened more cafes and sold more franchise agreements than any other year in our company history.
To top it off, we experienced same-store sales twice the industry average, further positioning us as a standout brand in the segment and a viable investment strategy for experienced multi-unit operators or those looking to franchise for the first time.
A new decade of growth
In 2020, we were ranked in the 41st Annual Franchise 500 in 2020 by Entrepreneur magazine. The ranking by itself deserves kudos, and on top of that, our franchise business moved from position #65 to #18 in a single year—a very notable jump up the list.
As we enter a new decade, our goal is to continue propelling the success and profitability of our dedicated franchisees, existing and new. We will invest heavily in operations execution and support, the digital guest experience and technology to support cafe operations.
Interested in owning a Tropical Smoothie Cafe and setting new records? Please complete the form, and a member of our Franchise Development Team will contact you. We look forward to getting to know you better.