Published on: May 2, 2017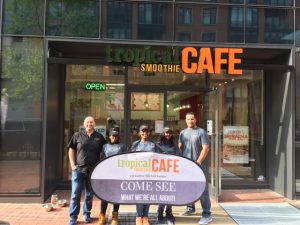 Oubab Khalil is the newest Tropical Smoothie Cafe Franchise Owner with his first location in Mount Vernon Triangle in Washington, D.C.
Originally from Syria, Oubab immigrated to the United States to join his wife as she studied for her Masters. Having been a lawyer in Syria, he was no longer able to practice once he got here and needed to explore a new career.
He worked in multiple Arkansas restaurants before relocating to D.C. in 2013. He took every opportunity to soak in training and professional development, but his experience had sparked an entrepreneurial spirit and he wanted to start a business of his own.
"I wanted a partnership where I had some support, but still had my own business," Khalil said. Having already been a brand fan of Tropical Smoothie Cafe, once he started learning more about the parent company, and franchise opportunity, he knew he'd found a fit.
He and partner, Ahmed Almassri, opened their first Cafe in Bethesda in 2016 and were on the lookout for another location until they found the one in Mount Vernon. The location immediately had a feel of community. With a boutique fitness outlet next door, the mix of better-for-you food and healthier lifestyle options is a great match.
Ultimately Oubab would like to open at least three more Tropical Smoothie Cafes with an eye on the Capitol Riverfront area. A winding path from his days as a lawyer in Syria, Tropical Smoothie Cafe's franchise opportunity has allowed him to experience the American Dream.