Published on: November 3, 2020
Danny Klein
November 4th, 2020
Tropical Smoothie has signed 184 franchise agreements year-to-date.
Tropical Smoothie Cafe has been one of the industry's true COVID-19 success stories. The brand's same-store sales ballooned 19.5 percent, year-over-year, in Q3—a company record. Year-to-date comps are 3.4 percent higher than 2019 levels. Meanwhile, its opened 75 restaurants and is on track to surpass 85 by year's end. Perhaps equally vital, Tropical Smoothie's pipeline hasn't slipped, despite cautious conditions (to put it lightly). By October, the chain signed 184 franchise agreements to expand well into the future.
Yet this swell wasn't a day one reality. Tropical Smoothie pivoted just like everybody else. And part of that was accelerating technology to better serve a COVID climate as well as whatever might arrive next.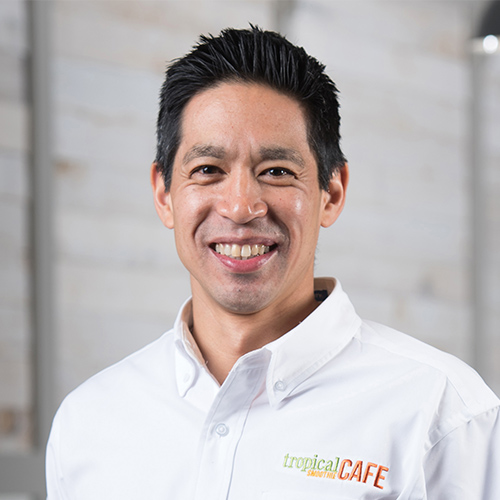 Tropical Smoothie's digital sales consistently climbed over recent months. In August, digital accounted for 35 percent of the brand's business, with some stores generating 65 percent or more.
Michael Lapid, chief information and digital officer with the brand, spearheaded COVID lifelines like curbside pickup, third-party partnerships, and helped advance communication tools in Tropical Smoothie's mobile app and guest contact center, among other plans.
Lapid, who joined the company in October 2019, chatted with QSR about the brand's journey and what it has planned for the next stage of the crisis.
Let's go back to the early days of COVID. How much of the business was dine-in before the pandemic? How did the digital split up (between carryout/delivery, etc.)?
The shift away from dine-in business across the restaurant industry was something no brand had experienced before the pandemic. Fortunately as a fast-casual concept, our business model incorporated operational procedures for carryout business prior to the pandemic, and while the dine-in part of our business was initially impacted, we were able to quickly mobilize a more convenience-based ordering model to meet the new needs of our guests and sustain business for our franchisees. Prior to the pandemic, we were 31 percent dine-in to 69 percent carry out. Today, we break down carryout a bit more to include all digital ordering and off-premise sales because our dining rooms remain closed and we are experiencing 35 percent digital transactions.
When dining rooms started to close, from a tech side, what were some areas Tropical Smoothie targeted from the outset? Where did you see customer behavior going and how did you move to meet it?
The pandemic completely transformed consumer behavior. As dining rooms closed, our guests began ordering food to be delivered or picked up, whether that was through the drive-thru or curbside, and we knew we needed to pivot our strategies to stay relevant. Within two weeks of the pandemic striking, our team rapidly expanded or rolled out new initiatives to adhere to the team member and guests' safety, such as third-party delivery, curbside pickup, and shortly thereafter Tropical Smoothie Cafe branded delivery available in the mobile app and via online ordering.
Talk specifically about curbside. What did it take to roll that out, how fast was it, and what were some learnings you've continued to try to improve upon?
Our team was able to launch curbside pickup in 10 days from when businesses started to close dining rooms, which includes the development of the mobile and web experience and the execution across all of our locations. We strongly anticipate that curbside ordering will remain in high demand for consumers and we will continue to refine our processes. For example, we are currently piloting a guest notification experience to alert the cafe when the guest arrives to pick up a curbside order.
How has delivery progressed? How does the delivery customer during the pandemic compared to the one before? How much of this is new customers versus core?
While many locations participated in third-party delivery at a local level, we rolled out third-party delivery systemwide to accommodate the consumer demand across four of the largest providers—Uber Eats, DoorDash, Postmates, and Grubhub. Making Tropical Smoothie Cafe available on these platforms has resulted in an increase in third-party sales overall. Through our presence across these platforms, we've been introduced to new guests. Additionally, due to the steady growth in demand for delivery, we launched Tropical Smoothie Cafe branded delivery, powered by DoorDash, to accommodate those loyal guests who frequently order via our mobile app or .com site.
Where do you see both of these channels headed? Is curbside here to stay? How do you think third-party delivery will evolve? Is first-party on the table?
Absolutely! Our business model was able to easily adapt to curbside pickup and delivery, and our franchisees have seen great success with these order modes. So much so that digital sales currently make up 35 percent of all sales, up from 24 percent at the beginning of the year, with our best performing cafes seeing 65 percent in digital sales. These initiatives are here to stay, as we don't believe this consumer demand will be going away anytime soon.
How critical has the app been during this time? Have you seen a major boost in usage? What are some ways Tropical Smoothie has incentivized visits through the platform, as well as reduced friction in the ordering process?
We launched a new mobile experience for the Tropical Smoothie Cafe app in late-September to enhance the guest experience. The app is powered by Punchh, a robust CRM (customer relationship management) system that will allow us to communicate more effectively to our guests. The app has allowed us to provide more convenience to our guests with increased self-service abilities including scanning receipts to earn rewards. Guests can place their orders through the app for delivery, curbside and in-cafe pickup, and scan their app or receipt to redeem and earn rewards. The app has also helped streamline the ordering process for our cafes. In the first three weeks, we migrated over 46 percent of our most active members identified prior to launch. We have also more than doubled the number of new members we gained during the same timeframe last year. With these captive users, we can now target our marketing strategies based on their frequency and preferences.
Do you believe mobile apps are going to remain a key element in the consumer journey after COVID? And if so, how can brands keep customers engaged even when dine-in returns?
Mobile apps will most definitely remain a key element after the pandemic especially given the ubiquity of mobile phones. Businesses were already developing ideas to elevate mobile apps pre-pandemic. The pandemic accelerated many of these initiatives, forcing businesses to prioritize it. We've seen some markets reinstate dine-in, and brands are prioritizing the launch of creative strategies that will keep customers engaged (in-app touchless menus, payments, reservations, etc.). For Tropical Smoothie Cafe, our new app and loyalty provider will allow us to deliver relevant personalized messaging and drive engagement across various channels and in a variety of formats (SMS, push notifications, email, etc.). All of this is possible because of the combination of new mobile app and loyalty technology.
How is the data coming into play here? What are some insights Tropical Smoothie has gleaned from COVID spending that can play a role after? In what ways is it helping now?
Data is the backbone of the enterprise. We have a variety of sales, operational, and guest data across the business and a world-class analytics team. Throughout this pandemic, our digital sales have accounted for 35 percent of our total sales, and our best performing digital cafes have seen 65 percent or more in digital sales. We're continuing to see a sustain lift in digital ordering and higher checks due to shifts in consumer preferences. As part of our "Anytime, Anywhere" strategy, we continue to see strong demand for our products in third-party marketplaces. Each third-party delivery partner brings in an average of $117 per cafe per day, resulting in 10 percent sales increase for the year. These numbers show an immense increase for this to-go consumer demand, and it'll continue to play a big role after the pandemic. Lastly, we're always looking at our franchisees profitability and with new national rates, these third-party transactions are profitable for our system.
What are some other tech initiatives the company has strengthened during this time?
Accommodating the shift in consumer demand, curbside pick-up and delivery have been our biggest focus.

Because our staff and guests' safety are of the utmost importance. Our team is dedicated to fine tuning the experience across all order modes outside the four walls of the cafe and driving traffic and frequency through 1:1 marketing across those order preferences.
Where is there still opportunity ahead?
Tropical Smoothie Cafe is looking into several new opportunities and has developed a robust roadmap to help enhance the brand and meet the demand of consumers. A high, short-term priority for us is the implementation of touchless payment that is compatible with Google Pay or Apple Pay.
Just generally, what do you think might be the biggest tech-fueled change to come out of COVID for restaurants?
Today, everything is touchless or contactless. Restaurants have adapted their models to provide a seamless and risk-reduced experience for their staff and guests with touchless menus, touchless payments, pre-order pick up, and more. The key is making these touchless interaction points integrated so it doesn't feel clunky and doesn't take away from the hospitality or experience. For us, we continue to explore innovative technology to deliver on this experience. These initiatives will be the new normal moving forward.
Ready to join the franchise that's growing and going fast? Fill out the form below.