Published on: April 20, 2015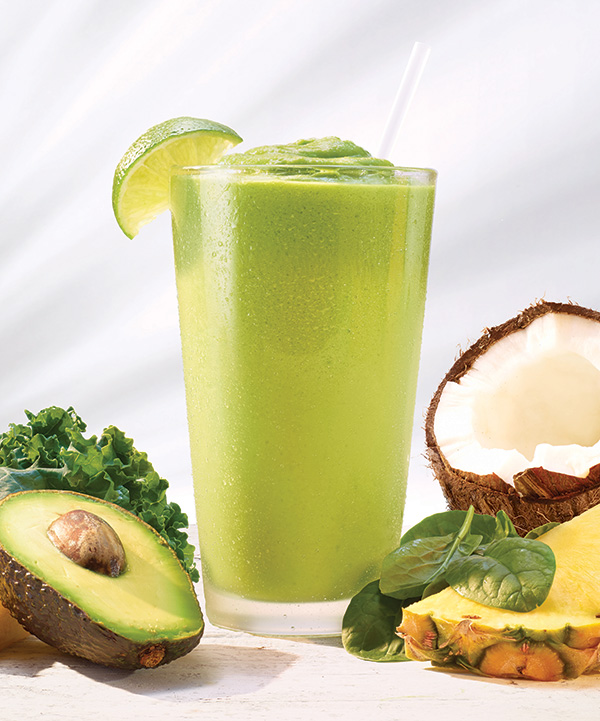 People's taste buds have gotten more sophisticated, and bold flavors are in demand. Today's consumers are also embracing healthier food options and more active lifestyles. Here at Tropical Smoothie Cafe, we are satisfying the cravings of our health-conscious, flavor-craving guests with tropical twists.
We're bold where others are bland
Our Avacolada Smoothie, an innovative combination of avocado, pineapple, spinach, kale, coconut and lime, is just one of our better-for-you menu items that delivers great taste with a nutritious punch. Spinach, kale, and superfruits like acai are also revving up our fruit smoothies.
Pesto, chipotle, hummus, and Jamaican jerk are exciting flavor profiles we feature as food preferences go global. Spinach, kale, avocado, and superfruits like acai are revving up our fruit smoothies.
Our Culinary Team is always looking for what's new to satisfy our customer's cravings for bold flavors that awaken the senses — and boost sales for our Franchise Owners. Throughout the year, we introduce new flavors and drive sales to our Cafes with limited-time offerings. And, by offering both smoothies and food, we have an average ticket that's higher than a typical smoothie franchise.
"I make sure our food and smoothies are fresh, nutritious, and best of all, delicious" says our Chef Lake Dawson. "As I develop our menu and featured items with our Nutritionist, we source new flavors and watch healthy trends happening in the food world. Right now, big bold flavors, inspired by international cuisines, are fueling our sales and keeping customers happy all day with breakfast, lunch, dinner, and snack options. Our customers tell us that they don't just like our food, they crave it. And that's a good place for a great brand to be."
Interested in owning a Tropical Smoothie Cafe and satisfying customer cravings? Please complete the form, and a member of our Franchise Development Team will contact you. We look forward to getting to know you better.