Published on: April 4, 2018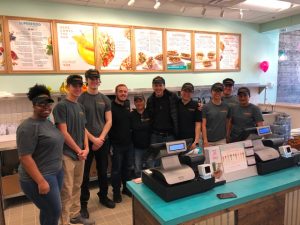 At Tropical Smoothie Cafe our mission is shared by our Franchise Owners to inspire a healthier lifestyle by providing better-for-you food and smoothies with a bit of tropical fun. Take a look at our newest openings and the play-to-win Franchise Owners behind the Cafes!
Roswell, Georgia: Diane and Cuyler Esposito are both passionate about the Tropical Smoothie Cafe brand, which is why they have opened their third Cafe in only two years' time! They both have a play-to-win attitude that is contagious within their locations.
Midland, Texas: Ben Halstead's eyes were on a Tropical Smoothie Cafe with a drive-thru in Midland, Texas from the very start of his franchise journey. While he waited for the right real estate, he worked at one of Franchise Owner Glen Johnson's Cafes in Arkansas to gain more experience and even partnered with Glen's mother, Marilyn Johnson, as an investor for this location. Ben is a brand fan of Tropical Smoothie Café and is very excited to have the opportunity to grow with us.
Fairfax, Virginia: Brian Kim and Paul Robertson opened their first Cafe at University Shopping Center in Fairfax, Virgina in May 2017. Last year they won an award for sales over 1 million. Brian had owned two Subway restaurants which he sold so that he could expand with Tropical Smoothie Cafe. Paul was a Residential and Commerical Developer in Washington D.C. They hope to further expand with Tropical Smoothie Cafe in the Washington D.C. market.
Conyers, Georgia: Subhash Pandat continues to grow with the Tropical Smoothie Cafe brand with the opening of his second Cafe in Georgia with no plans to stop there. Previously, he owned multiple Subway locations before he joined the better-for-you food and smoothies franchise, Tropical Smoothie Cafe.
Marietta, Georgia: This is Chris Pike, Debbie Pike, and Meghan Cook's third of 10 Tropical Smoothie Cafes that will open over the next couple of years. Debbie Pike has over 30 years' experience in the restaurant industry as a franchisee, franchisor, and consultant. "We were really looking for a concept to invest in that supports some of our personal values. Within the fast-casual segment, Tropical Smoothie Cafe is so relevant because of its healthy positioning and that really was on target for us," says Debbie.