Published on: May 31, 2022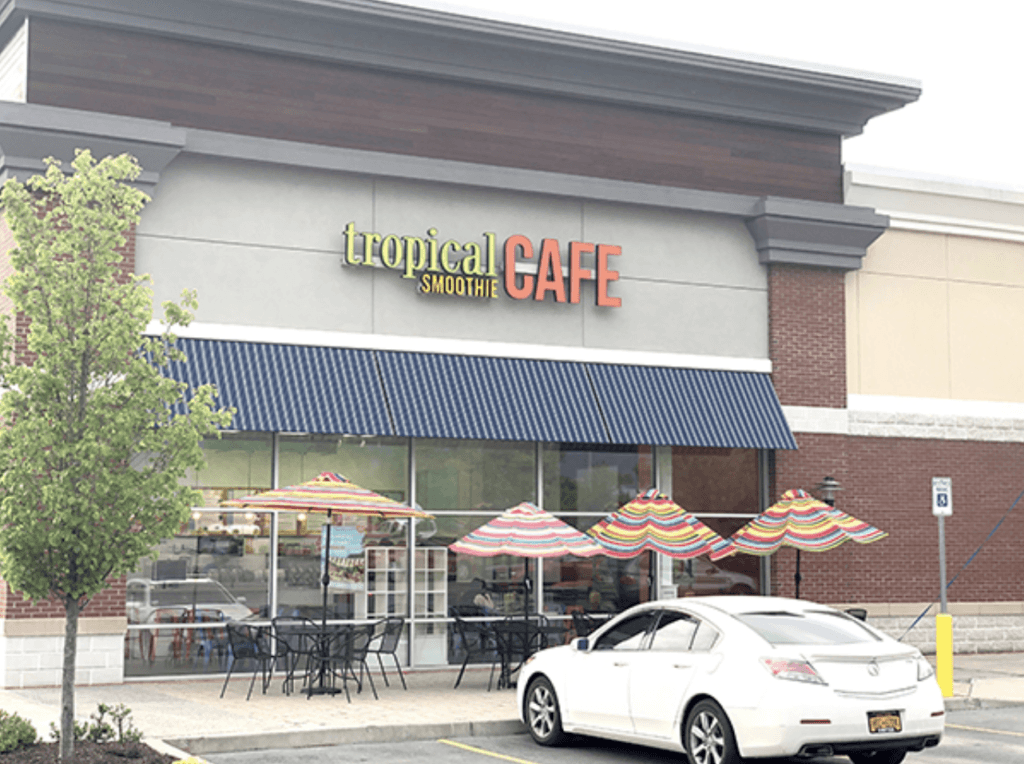 A group of seasoned multi-franchise operators have brought a new franchise to the Central New York fast-casual restaurant scene. Roger Wagner, Jr. and his partners, brothers Rick and Mark Bartlett, at W2B Management LLC, already operate 20 Burger King franchise restaurants along with 12 Moe's Southwest Grill locations. Most of these eateries are in the Syracuse and Rochester markets.
With other franchisees operating all around them, opportunities for growth were fairly limited, but a chance breakfast experience during the pandemic opened Wagner's eyes to a new opportunity.
It was that breakfast at a Tropical Smoothie Cafe in Pennsylvania that changed things.
"The product was great," Wagner says. And a conversation with the manager piqued his interest. He talked this over with his partners, they gathered some information, and within six months, the trio had a development deal as a franchisee.
W2B opened its first Tropical Smoothie Cafe franchise in Victor in the fall of 2021, followed shortly by locations in New Hartford and Webster A cafe is under construction in Irondequoit and will open soon and plans are underway for a Watertown location.
Next year, W2B plans to open cafes in Cicero, DeWitt, and Penfield, while Camillus, Clay, and Pittsford are on track for 2024.
In total, W2B will open between 10 and 12 cafes over the next several years, Wagner says "We've been moving and building really quickly because we want to be first to market," he adds.
The cost to open a cafe ranges between $277,000 and $584,000, with the average cost running around $400,000. The franchise fee ranges between $15,000 and $30,000.
Ongoing franchise fees include a 6 percent royalty fee, 3 percent national marketing fee, and 2 percent local advertising-cooperative contribution.
Along with bringing a new choice to the areas where they located, Wagner notes, each cafe creates about 20 jobs, and also provides opportunities for growth to employees in their other franchises.
"In a franchise business, you reach a ceiling of giving people an opportunity," Wagner notes. The new restaurants will provide avenues for promotions to current employees looking to move up the ladder.
Response to the cafes has been fantastic, he notes. "We've been super surprised with how well we've done."
While smoothie is in the name – and the cafes feature a wide variety of them – 40 percent of sales come from the food including wraps, flatbreads, and salads.
The average cafe ranges between 1,500 and 2,000 square feet W2B's Victor location at 165 Cobblestone Court Drive is 2,000 square feet. The New Hartford cafe, located at 4797 Commercial Drive, covers 1,400 square feet. The Webster cafe at 927 Holt Road takes up 1,700 square feet.
The Irondequoit location is 2,800 square feet, and Wagner says the plan is to use about 1,000 square feet of that space to operate a central catering site.
W2B's aggressive growth strategy is already paying off, not just in the sales but also positive reactions from customers.
In March, they won Rookie of the Year franchise award from Tropical Smoothie Cafe, LLC.
"We were shocked and surprised and humbled to be able to accept an award like that after only being in the business for a couple of months," Wagner says.
Tropical Smoothie Cafe started in 1997 in Destin, Florida and the first franchise location opened in 1998. Today, there are more than 1,075 locations nationwide. The company has available markets in more than 30 states and future development plans in seven states.