Published on: August 7, 2017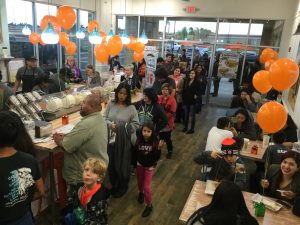 Carlos Varela recently joined Tropical Smoothie Cafe with his partners and is opening locations throughout Texas. Varela is part of VARCO Franchise, LLC group who also own other concepts, and Tropical Smoothie Cafe offered an investment opportunity to help diversify their portfolio.
Having first learned about the Tropical Smoothie Cafe franchise opportunity at an industry conference, Varela and his partners visited Cafes and scoured various franchise publications to research further. With a background in real estate, franchising, entrepreneurship, and investing, the brand's model checked all of Varela's boxes and they moved forward with signing.
"It's a great concept with better for you food. Their strategy is well-developed with a clear focus on the target consumer. Leading edge products and a good price point work together to meet consumer demand. We wanted to be a part of that," Varela said.
Another thing that stood out in their research was how Tropical Smoothie Cafe has captured the attention of the engaged millennial, an enviable target for fast-casual franchises. In Texas alone, there are 3.8 million millennials, accounting for a third of the state's workforce.* This growing population is interested in new concepts, convenience, and healthier food options, all of which Tropical Smoothie Cafe meets.
With a number of locations open throughout Texas, we are excited to have the VARCO franchise group in the Tropical Smoothie Cafe family and look forward to continued growth together.
*The Center for Generational Kinetics