Published on: May 8, 2019
Fort Gordon is a military base in Georgia that serves 30,000 military and civilian employees. In April of 2019, Reginald Foster was serving as well, but this time it was Tropical Smoothie Cafe's® irresistible smoothies and food.
Foster, a 25-year Army veteran, retired in 2015, and subsequently opened two Tropical Smoothie Cafe® franchises in the area with his wife, Zenna.
"Traveling around the last 25 years, it was hard to find a healthier alternative to fast food," Foster said. "This model seemed to fit best. Especially with the Millennial generation, people are looking to eat better and feel better."
Once his two Cafes were up and running, he set his sights on opening one at Fort Gordon, his former base. During the ribbon-cutting ceremony, he was joined by civic leaders, military personnel, his family, and Charles Watson, CEO of Tropical Smoothie Cafe®.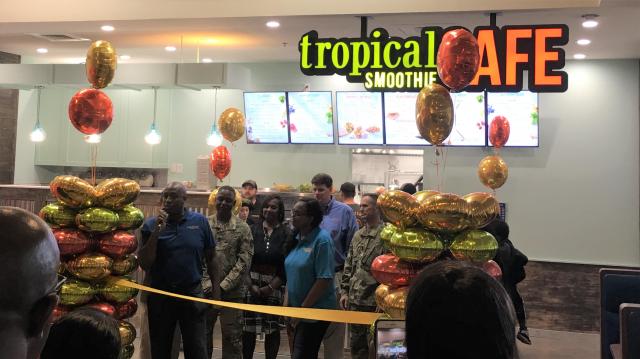 "It is an honor and a privilege to serve the people who serve us and our country every day," said Watson.
Tropical Smoothie Cafe has several veteran Franchise Owners who have served in the military. Kaleb Warnock, Emily Harrington, and Rylan Miller are all multi-unit franchise owners with our brand. Charles Watson explains why.
"The willingness to follow a system, and to focus on a mission is what military members do. We share their values and their competitive spirit with our play-to-win culture. Which makes Tropical Smoothie Cafe® a great franchise for veterans."
If you're like Reginald Foster, and want to align with the best, join the ranks of Tropical Smoothie Cafe® Franchise Owners. Complete our form to learn more about the opportunity today.