Published on: March 5, 2020
Every member of our franchise family plays a vital role in leading us in growth, innovation, product development, and hospitality to achieve our record-breaking success. During Women's History Month, we're shining a light on two of the many savvy women Franchise Owners who epitomize our brand spirit in their professional and personal lives.
Wife and Husband Duo – Julie Munson, NW Ohio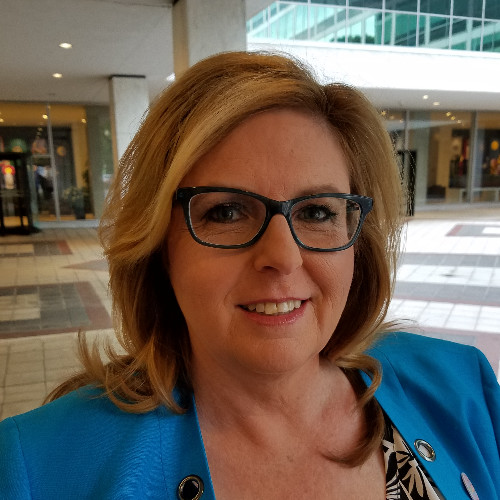 Julie Munson has been making history as a true ambassador of the Tropical Smoothie Cafe brand for 13 years. Julie and husband Bill opened their first Cafe in Maumee, OH, in 2007. They opened their second location in 2012 and three more over the past five years. If a Cafe opens within a two- or three-hour radius of their home in Northern Ohio, they are there. "Every vacation involves hitting a Tropical Smoothie Cafe," she says.
Julie's known for her kind spirit and is respected for her innate ability to divide and conquer as a mom, wife, and business owner. With a passion for both people and the development of employees, Julie is a proponent of training, especially among assistant managers and shift managers. "When Bill and I aren't in the Cafes, we want to make sure that our managers are carrying out the same level of service and set of values that we uphold."
They treat their team members like family and have been known to support them during difficult times, such as paying for an employee's tuition for a semester and providing funds to two shift managers whose homes had burned down. They are also very engaged in supporting their communities. They host several fundraisers each year for local organizations, such as school sports teams, church youth groups, the local chapter of the Alzheimer's Association, the Toledo Area Humane Society, and the local swim club. One of Julie's cafes is also a top 20 location that raised more than $195,000 over the past 12 years for Camp Sunshine, a retreat for children with life-threatening illnesses and the brand's national charity partner.
Julie's efforts don't go unnoticed. In 2019, she and her husband, Bill, were the winners of our Build the Brand award.
Sister and Mom Trio – Toya Evans, Bowie, MD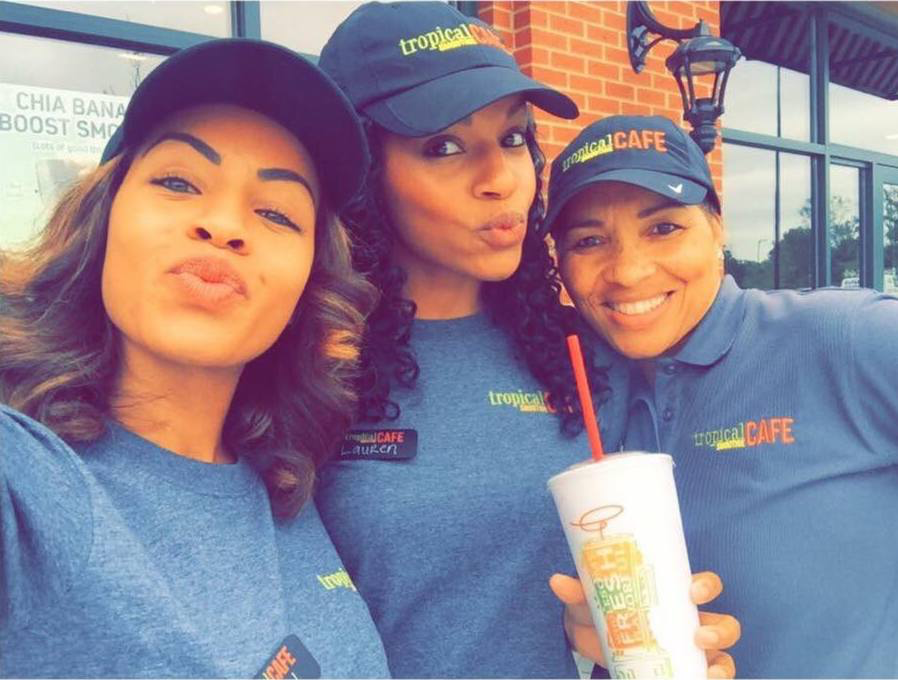 Toya Evans and her daughters, Lauren Williamson and Chanel Grant, opened their first cafe in Bowie, MD in 2016, and since then have harnessed their strengths in true women-powered style. And there are no plans to stop. Her second cafe is scheduled to open this spring in Landover Hills, MD, and plans for a third, non-traditional cafe is in development on Andrews Air Force Base. As a female minority business owner, Toya's been featured in multiple publications this year and truly embodies our brand principles of Solid Relationships, Play to Win, Creative Spirit, and Live Better.
The trio chose Tropical Smoothie Cafe because of their passion for healthy foods and lifestyles. They wanted a proven concept with a strong support team. "Because we all have other jobs, the franchise model works for us, as it stripped out the guesswork," Toya adds. "It makes for an opportunity to prioritize our individual strengths and turn off work. And that's been really successful for us."
With a tenacious and caring spirit, Toya thrives on being involved. She's at every co-op meeting and is a member of the co-op board, as well as Tropical Smoothie Cafe's Marketing committee and Guest Experience and Local Store Marketing subcommittees. Her sales are as spectacular as her personality, hitting over $1M in 2019.
Passionate about enriching her community, Toya supports many local organizations, including Davits, Delta Research Foundation, Bowie Community Theatre, Camp Sunshine, National Council of Negro Women, Tulip Grove Career Day, and more. She also spearheaded a local Coat Drive with two other Franchise Owners, providing over 50 new coats to area youth and donating over $2,000 to local schools and organizations in 2018.
Congratulations to all our women Franchise Owners, who drive our success through their personal touches and outstanding performance. If you are interested in owning a Tropical Smoothie Cafe and joining our team of play-to-win Franchise Owners, just fill out the form below.