Published on: August 27, 2019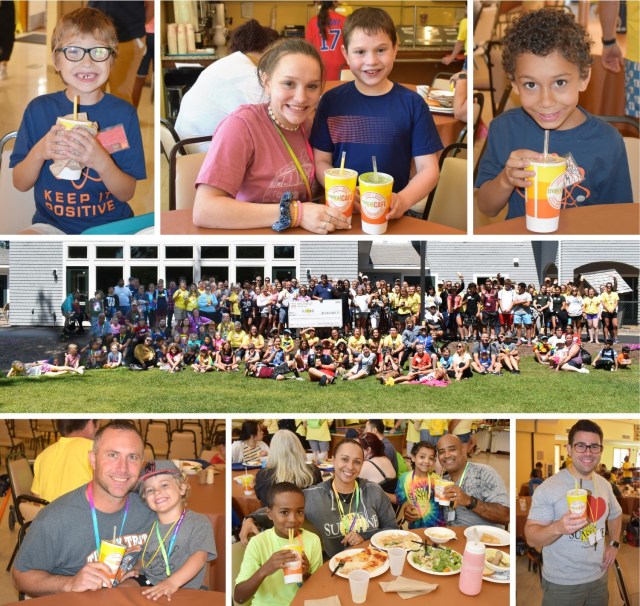 The Tropical Smoothie Cafe menu is crafted around a simple but powerful concept: "Eat better. Feel better." However, also driving our business is the commitment to "Do better." Because a healthier lifestyle includes looking beyond ourselves, and providing support for those around us, too.
And this summer, Tropical Smoothie Cafe customers, crewmembers, and Franchise Owners joined forces to give back in a major way—raising an unprecedented donation that totaled more than $1.14M for Camp Sunshine, a Maine-based nonprofit welcoming families with children facing life-threatening illnesses to its year-round campus for some respite, relaxation, and recreation.
"The families who attend Camp Sunshine have endured some of life's most challenging circumstances, and we've seen how much this camp means to them," Tropical Smoothie Cafe CEO Charles Watson said. "Some days you have to create your own sunshine, and that's the beauty of Camp Sunshine—the camp creates hope and happiness for these families."
The Tropical Smoothie Cafe partnership with Camp Sunshine began in 2008. Over the past 12 years, our fast-growing, fast-casual franchise business has donated more than $7.5 million and 6,000 volunteer hours, helping more than 2,500 families visit Camp Sunshine at no cost.
More than 780 Tropical Smoothie Cafe franchise locations nationwide came together in raising the record $1.14 million donation during a multiweek fundraising period that was held alongside our annual National Flip Flop Day campaign. The promotion, created in 2007 and held each June, offers flip-flop wearing customers a free smoothie, along with encouragement to donate to the cause.
"It never ceases to amaze me how our franchisees, customers, and employees come together to contribute to Camp Sunshine in such a meaningful way," Watson said of this year's historic contribution. "I'm proud that we can support Camp Sunshine's mission to provide a retreat for children with life-threatening illnesses and their families."
Looking to own a business that believes in doing well? Click the 'learn more' button to find out why a Tropical Smoothie Cafe franchise is a fast-casual concept you can be proud to grow with.