Published on: January 17, 2018
Tropical Smoothie Cafe, the leading fast-casual Cafe concept known for its better-for-you food and smoothies with a tropical twist, announced today its significant achievements in 2017, opening 101 new Cafes and signing 187 agreements that will grow the brand's footprint in markets nationwide. In addition to propelling development, the award-winning food and smoothie franchise reported comp sales of 3.3%, marking the brand's sixth consecutive year of positive growth.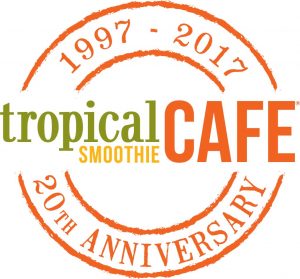 In its 20th anniversary year, Tropical Smoothie Cafe reached notable milestones in 2017 that further established the brand as an industry leader including the opening of its first location in Idaho, 50th in Michigan and 630th Cafe overall. The brand also focused on accelerating expansion efforts in key target markets across the U.S., not only signing agreements for development, but also opening new cafes in markets such as Dallas and Pittsburgh.
"What a tremendous year we had in 2017. From driving franchise development to revamping our digital platforms and launching new products, our team has worked tirelessly to elevate Tropical Smoothie Cafe to new heights," said Mike Rotondo, CEO of Tropical Smoothie Cafe. "With more than 630 locations open nationwide, a committed network of franchisees and a new corporate leadership team at the helm, we're positioned for continued success in 2018 and on pace to reach our goal of 1,000 locations by 2020."
Amidst the ongoing growth throughout 2017, Tropical Smoothie Cafe also invested significantly in its corporate leadership, appointing six industry veterans to accelerate the momentum and position the brand for further success including Rob Collins as Chief Marketing Officer, Pete Ward as General Counsel, Paul Marsden as Chief Financial Officer, Jaime Denney as Senior Vice President of Operations, Cheryl Fletcher as Vice President of Franchise Development Strategy and Kristi Kingery as Vice President of Supply Chain.
Tropical Smoothie Cafe is looking to add qualified franchisees to its growing brand. Candidates should have business experience; $125,000 in liquid assets and a minimum net worth of $350,000; and an initial investment of between $222,770 and $525,400. The better-for-you food franchise currently boasts an average unit volume (AUV) of more than $662,000 — the highest in the company's 21-year history — with the top 50 percent reporting an AUV of more than $846,000.
To get started on the path to Cafe ownership, click GET STARTED at the top of the page.